Rep. Edolphus "Ed" Towns retiring from the job he loves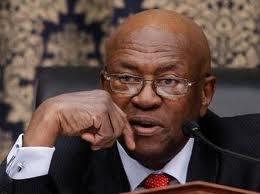 Towns "was one of the best bosses that anyone can work for. He takes everyone into consideration and has friendships with employees besides employer-employee," said Harry Pinchback, who has been Towns' special assistant for the past 23 years.
With Towns' retirement approaching, the staff that has worked for him during his time in Congress will now be out of jobs. Some staff members have already found new positions, while others such as Pinchback intend to follow in Towns' footsteps and retire.
Edna Johnson, who has worked at Towns' Joralemon Street office as a special assistant for over five years, hopes to go to work for a nonprofit Brooklyn housing organization.
"I am eligible to retire, but I'm the type of person that can't sit down. I specialized in housing while I was here, and will continue to do that when I leave," Johnson said.
Towns hopes that all of his employees will find jobs, and he stated that he will assist them in that endeavor.
With the election for the 10th District over, Towns reflected on Jeffries, the man who will fill his shoes.
"I think he will do well. He's familiar with the political setting and has served as assemblyman for many years. He is motivated and committed to represent constituents. I believe he is going to do an outstanding job not only for Brooklyn but the state," he said.
Nov. 4 was the first time in more than four decades that Towns' name did not appear on an election ballot.
"I spent 46 years in electoral politics, and for the first time to not have my name on a ballot in some form felt good," Towns admitted.
Although retirement is looming, Towns vows to continue to urge young people to get involved in their communities. "Work hard, learn as much as you can, and don't be selfish," Towns said.