Trigger- and taser-happy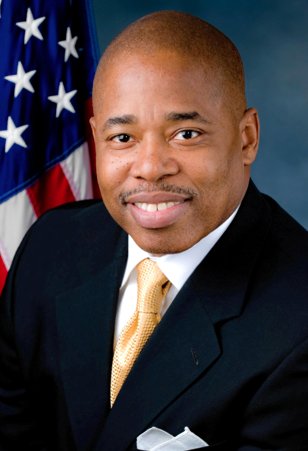 State Sen. Eric Adams wants some MTA workers to be armed with tasers in an effort to combat terrorism and violence. However, his controversial bill has raised questions and a thumbs down from MTA officials.
In a statement last week, Adams said that not every transit worker would get a taser; he simply wants to change the current law that grants MTA and Amtrak workers the ability to use them on the job.
"A taser is one of the safest non-lethal tools available; it is an effective method of dealing with the threat of serious physical injury to or averting the death of innocent persons," Adams said. "Unlike the damage done by deadly weapons like guns, no injury results when a discharged taser strikes an innocent person, unless the trigger is pulled to generate the electronic pulse after the leads have made contact."
Adams pointed out that trains and buses often have long intervals and are far away from law enforcement's ability to help. He said incidents could happen, for example, when an A or D train is on an express interval between the 59th Street and 125th Street stations. Tasers he said, would give the train crew the power to incapacitate an offender.
In an interview with the AmNews, Adams said the idea came to him while on a flight to China on which a passenger attempted to sexually assault a woman. Adams, a former police officer, took care of the situation by pinning down the offender mid-flight.
"We have not been skillful in defending ourselves from terrorists, we have been lucky," he said. "People want to hurt this city."
The MTA would select who would get the weapons, Adams added. However, he's been highly criticized because of the possibility that MTA employees would abuse their ability to use the tasers. Critics fear they could be used to penalize people for minor offenses like jumping a turnstile or drunkenness.
"If anyone uses the tasers as any form of abuse, they should be prosecuted," he responded. "You can't stop transit employees from using a public safety device that a small percentage of people have abused."
The Transit Workers Union supports Adams' bill, citing that transit workers are in danger and need protection.
The bill comes as reports indicate that there is a spike in subway crime in the city.
However, the MTA reportedly said it will not support Adams' bill. MTA Chair and CEO Jospeh Lhota said that changing the law would be doing the work that law enforcement can do.
Meanwhile, Livery Base Owners group is asking the Taxi and Limousine Commission (TLC) for the right for its drivers to carry registered handguns. The group says 400 livery drivers were robbed in 2010.
The TLC is expected to reject the recommendation, part of the negotiation for the new five-borough taxi plan, citing that drivers carrying guns could pose a threat to passengers.