Cuomo's change of heart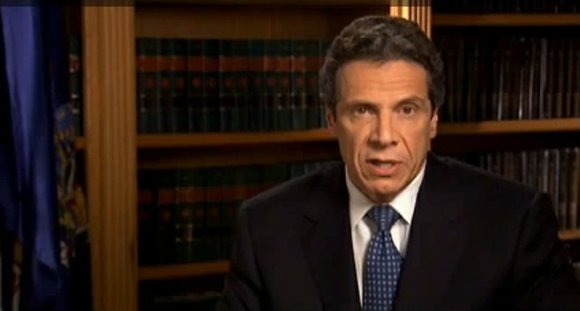 Over a year ago, New York State Gov. Andrew Cuomo told the people of New York that he wouldn't even consider raising taxes. "No new taxes. No new taxes. No new taxes," he said in 2010.
And like the first President Bush, it looks like an old dog can learn new tricks.
Twenty-five days before the expiration of the millionaire's tax, Cuomo announced on Tuesday that he plans on raising taxes on New York State's wealthiest residents.
Only a very small fraction of the Black community will feel the effects of the tax increase. In fact, word from political insiders is that it was pressure from the Black, Hispanic and Asian Legislative Caucus and unions representing working people that helped change the governor's mind.
Under the new tax plan, there would be an increase on single filers who make over $1 million annually and a hike on joint filers making over $2 million per year. The hikes would be offset with lower rates for state residents who makes $150,000 or less a year.
According to Cuomo, under the new rate structure, 4.4 million New Yorkers would receive tax cuts, including a $690 million reduction for middle-class taxpayers, All taxpayers would see a tax reduction or no change compared to current their bill. The brackets would increase with the rate of inflation and they would expire on Dec. 31, 2014.
"Our state government has come together in a bipartisan manner to create jobs, grow our economy and, at the same time, enact a fair tax plan that cuts taxes for the middle class," said Cuomo. "We are investing in projects that will restore our state's infrastructure and put thousands of people to work. We are cutting taxes on middle-class New Yorkers and small businesses, which will inject nearly $1 billion into our economy. We are targeting new tax credits to hire inner city youth and reduce unemployment in some of the poorest areas of our state, as well as providing direct aid to communities struggling to recover in the wake of this year's severe storms." According to the governor, this would be the lowest tax rate for middle-class families in 58 years.
It was the proverbial "three white men in a room" who put together the tax plan. Cuomo collaborated with Assembly Speaker Sheldon Silver and Senate Majority leader Dean Skelos on the agreement. Skelos sent a statement to the media explaining why he, as a Republican, agreed with this proposal. "This comprehensive plan will reduce the tax rate for middle-class families to their lowest levels in more than 50 years, create thousands of new private sector jobs and begin to turn our economy around," he said.
Cuomo's plan also includes an inner-city youth employment program and a $25 million tax credit for employers who hire unemployed youth between 16 and 24 years of age over the first six months of next year. Employers in businesses such as clean energy, health care, advanced manufacturing and conservation would be eligible for the credit. They'd receive up to $3,000 for a six-month training period and $1,000 more if workers are retained for an additional six months.