Cuomo's change of heart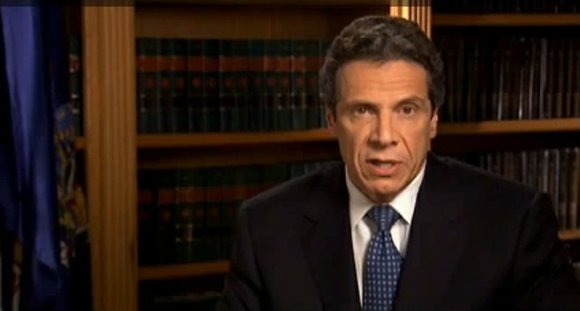 The Legislature was slated to begin a special session Wednesday afternoon to discuss the package for the new tax bill. George Gresham, president of SEIU 1199, released a statement heaping praise on Cuomo and attributing his actions to the power of the Occupy movement.
"We applaud Governor Cuomo, Senate Majority Leader Skelos and Assembly Speaker Silver for their bold leadership during this critical time," said Gresham. "This agreement will create jobs, cut taxes for the middle class and, for the first time in decades, begin to restructure the tax code towards a more equitable system. The audacity and determination of the Occupy Wall Street movement changed the national dialogue on income inequality and awakened ordinary citizens in New York and around the world that change is needed."
Gresham also thinks the agreement will mitigate cuts to the social safety net, ensure funding for health care and education and create desperately needed jobs.
Assemblyman Keith Wright felt it was about time Cuomo switched it up to do the right thing by the people of New York. Wright spoke with the AmNews about the necessity of this bill due to current conditions in the urban areas.
"Whether it's not extending the millionaire's tax or the overhauling of the tax codes, if it walks like a duck and talks like a duck, it's a duck," said Wright. "We need to generate more revenue in the state of New York so programs won't suffer. People are suffering left and right. They say the unemployment rate is around 8 percent, but in our community-the Black community-I would venture to say it's about 25 to 30 percent. We need to generate revenue so we can survive."
Silver worked with Cuomo to see this bill through and also believes that the middle class will greatly benefit from it. "With Governor Cuomo's leadership, we have forged a bipartisan plan that is fair to all New Yorkers and will help build a brighter economic future for this state," he said. "I am submitting to my conference a proposal that will provide $2 billion in revenue for the people of New York in each of the next three years by creating a more progressive tax structure, coupled with a significant middle-class tax cut."
However, not everyone in the political game is happy with the Cuomo plan. Assembly Minority Leader Brian Kolb said Cuomo's potential tax hike doesn't address what he feels are the real issues in New York.
"From what has been reported in the media so far, the bottom line is that taxes are being raised in New York State and we are still not dealing with our state's serious spending problem," Kolb said in a statement. "There is still no significant unfunded mandate relief for local governments. We should be protecting taxpayers by capping local Medicaid costs, enacting a state spending cap and doing this through an open, public process where these issues are debated and discussed in the light of day, not through secret deals behind closed doors by three men in a room."