Gov. faces redistricting and pensions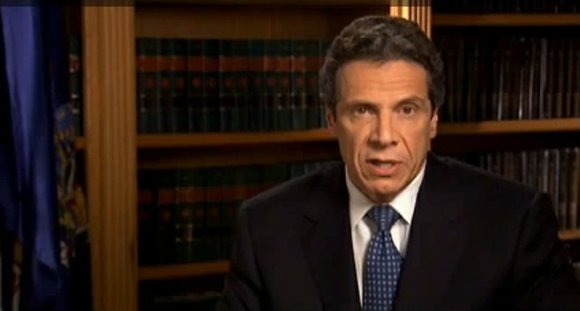 The 24th District extends north to the top of Herkimer County, south through part of Otsego County and west through all or part of Chenango, Cortland, Broome, Cortland, Tioga, Tompkins, Cayuga and Seneca counties.
If Mann's changes are accepted, northern Herkimer County would be merged into a large district that extends to the Canadian border and east to Vermont. Otsego would go with a district that extends to the state's southern and eastern borders. The other counties in the 24th District would be put into a district that extends along the Pennsylvania border all the way to the western end of the state.
Both chambers say negotiations continue on the redistricting deal, which is needed by about March 15 to avoid court intervention, with the budget deal due by April 1.
Late Sunday night, the Republican majority released their final proposals for redistricting, with only minor changes to election district lines compared to an initial proposal that Cuomo called wholly unacceptable and promised to veto. Good-government groups say the Republicans want to continue a tradition of distorting lines to protect incumbents and majority power for the coming 10 years. Redistricting is critical for the Senate Republicans, who hold a 32-30 majority going into the fall elections in the blue state.
Legislative leaders and Cuomo say they support a constitutional amendment to require an independent panel, beginning with the 2022 redistricting, but the Legislature's proposal would still give lawmakers the final say, and Cuomo recently noted redistricting is ultimately a legislative power.
"We've made dozens of changes to the original maps, virtually all of them based on public input, and have advanced a constitutional amendment that would achieve historic reform of the process," Reif said. "As a result, this is an even better reapportionment plan."
That constitutional amendment, however, would still give legislative majorities the final say over an independent panel. If the constitutional amendment process fails, then a proposed law would kick in that requires independent redistricting, though that could be overturned by a future Legislature.
Cuomo has moderated his hard line after pledging with nearly every legislator during the 2010 elections to make sure redistricting was done by an independent panel. Now Cuomo says he will veto "hyper-political" redistricting plans without saying what that means, other than he'll know it when he sees it. Cuomo has also said the issue is between the Legislature and the courts, which could ultimately redraw the lines. The issue is dividing good-government groups.
"It's a question of, do you accept something good and a reform or do you hold out for an ideal occurrence that will never happen?" said Dick Dadey of Citizens Union, offering a position supported by the League of Women Voters. He noted the Legislature never even introduced former Gov. Eliot Spitzer's redistricting reform, which would have taken the process away from the Legislature.
The Legislature and Cuomo, however, haven't followed the 2007 budget reform act that was intended to make that process more accountable, public and timely.
"I think we in this state have lost track of the fact that the Legislature is supposed to work for us, that reform is not what the Legislature is willing, grudgingly, to put up with," said Susan Lerner of Common Cause NY. "If what they are willing to do does not satisfy the requirement of the public, then it is incumbent on us to say, 'Not good enough, do it again better.' And that's what the governor's veto can do."