Haiti needs us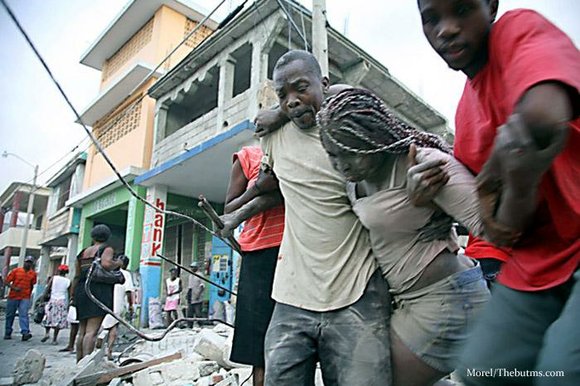 Gov. Paterson said, "On behalf of all New Yorkers, I extend our deepest sympathies to those affected by yesterday's earthquake in Port-au-Prince, Haiti. As details continue to emerge from this devastating natural disaster, New York State stands ready to assist in aid efforts and will coordinate with federal officials as well as the City of New York to provide immediate assistance.
"The Haitian community is an important part of the fabric of New York State and New York City. Our prayers are with the people of Haiti as well as all New Yorkers with ties to the Haitian community."
Rep. Yvette D. Clarke said, "My thoughts and prayers go out to the people of Haiti, who are suffering from the catastrophic damage caused by this earthquake. I am greatly concerned about the extremely fragile infrastructure of this island nation. Reports have already indicated that Haiti's critical infrastructure, including critical roadways and telecommunications systems, have been badly damaged."
"Because of the massive structural damage in Haiti, the United Nations must add a 'rescue' component to the ongoing 'relief' effort," said Marq Claxton of the Black Law Enforcement Alliance. "The international community must be compelled and funded to open its treatment facilities to receive the sick and injured. Medical triage and treatment cannot be effectively done in Haiti. Haiti's Hispaniola neighbor, the Dominican Republic, should serve as a localized triage site, and the Caribbean, American, Asian and European nations should begin immediate rescue airlifts.
"It is time for the fear-based ignorance and historical persecution of Haiti to be replaced by a global commitment to save lives. With all the high profile 'international consultants' who advise the Haitian government, how could an evacuation or rescue plan not be in place?"
"In this tragic time for Haiti's people, we, as legislators, have a clear responsibility to help ensure the free and rapid delivery of humanitarian aid to the people who need it most.
We must act now before this crisis worsens. As New Yorkers, we understand the importance of acting decisively against the worst effects of any disaster. We must use our full arsenal of tools to reach out and assist our ailing neighbors and friends," said State Sen. Kevin Parker.
Parker is recommending the opening of National Guard armories in neighborhoods of large Haitian populations to gather and coordinate charitable donations of supplies and, secondly, dispensing the New York National Guard Helicopter Services to transport these basic supplies to the affected areas in Haiti.
"In the wake this unexpected disaster, Haiti is facing another crippling humanitarian crisis, and Senator Parker insists that the people of Haiti aren't left hindered in their time of need. The damage and suffering from this earthquake have devastated the poorest country in the western hemisphere. Hundreds of thousands of Haitians are in need of immediate assistance, including water, food, clothing and shelter. This has only compounded the problems Haiti was already facing due to worldwide increases in food prices, which has left some 4 million Haitians struggling to provide for themselves and their families.
Meanwhile, U.S. Sen. Kirsten Gillibrand sent a letter to President Obama asking him "to grant [Haitian] families temporary protected status so they do not have to live in fear of having to immediately return to a country ravaged with devastation."
Wyclef Jean noted, "Many people have already reached out to see what they can do right now. We are asking those interested to please do one of two things: Either you can use your cell phone to text 'Yele' to 501501, which will automatically donate $5 to the Yele Haiti Earthquake Fund [it will be charged to your cell phone bill] or you can visit www.Yele.org and click on 'DONATE.'"