Mapped out: Minority voting power under attack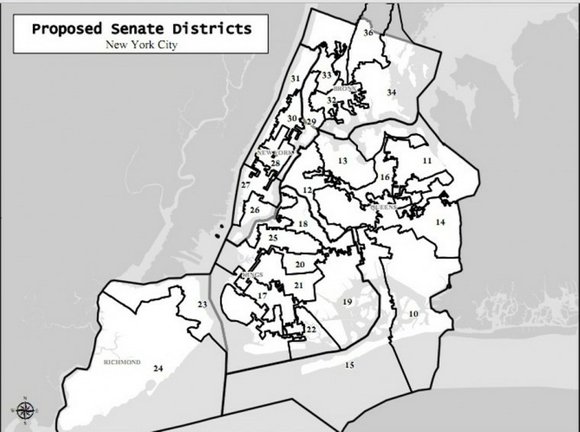 The New York State GOP continues its attempt to dilute the voting power of the state's people of color.
Last week, the New York Legislative Task Force on Demographic Research and Reapportionment presented its proposed district lines that would dictate much of the state's politics for the next 10 years. The new district lines would give Queens its first Asian-majority district and Brooklyn its first real Orthodox Jewish-majority district. The Asian-majority district would be based in Flushing and the Orthodox Jewish district would be in mostly Borough Park and consolidate the five current districts where the borough's Orthodox now primarily reside.
However, that news pales in comparison to what's being done to communities of color up and down the state in an attempt to take the power away from the people.
If the maps made by the GOP-dominated task force are approved, State Sen. Eric Adams' residence would be drawn into State Sen. Velmanette Montgomery's district, District 25, and the constituents that Adams represents now would be part of a brand-new district with no Senate representative. None of the potential suitors for that seat would be an incumbent.
"It just goes to show the level of mischief, and it borders on harassment," Montgomery told the AmNews. "Because the fact of the matter is that Senator Eric Adams' residence is one block into my district out of his own district, and not only that but the line that the proposed plan has swings down for only one reason, and that is to pick up his residence and place it into my district. So, they have drawn a district that I have represented mostly for the last decade. There's no rhyme or reason to this process."
State Senate Minority Leader John Sampson believes there is a rhyme and a reason to this...and it's all part of the state's right-wing plan to get the people talking. "My gut reaction was, 'Are they for real?'" said Sampson about when he first checked out the newly proposed district lines. "And basically, I went through this situation in 2002. This is what you call the typical bait and switch. They sent out the most egregious lines to get people in an uproar, and eventually they'll produce one from their back pocket that's less egregious but still violates the basic principle that the people choose the representatives and not the representatives choose the people."
According to Sampson, and confirmed by the proposed lines, Rochester's majority Black district would be split into three and would usurp any voting power that the city's minority population possesses. Also, State Sen. Mark Grisanti's district in Buffalo, which is currently 37 percent Black, would be 5 percent Black on the newly drawn lists, giving him a "safer" seat. He narrowly won his election in 2010. Grisanti knows he's been dealt a good hand. He stated as much to the Buffalo News on Tuesday.
"It's definitely better," Grisanti said. "But I had a lot of crossover votes when I ran last time...I'm hoping people just say that 'Mark puts people first and not politics,' and let's move forward."