Mapped out: Minority voting power under attack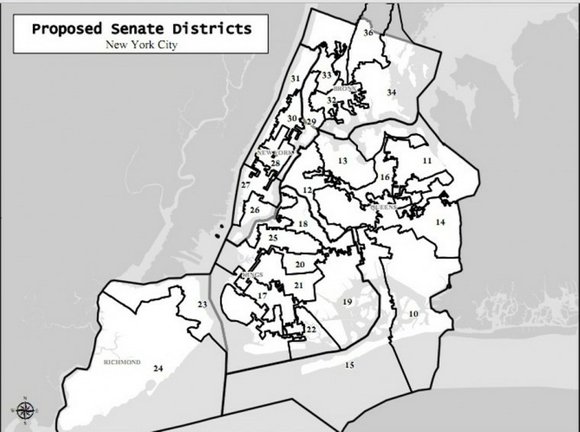 While Grisanti might put people first, some may accuse the party he belongs to of not following suit.
The Senate GOP looks like they want to make up for the lost population over the past decade, as many young adults have moved either downstate or out of the state altogether. To do that, they added a 63rd district in the Hudson Valley, which splits up a mostly Democratic Albany County. This was purposefully done and it's not for the reason mentioned above, according to one organization. According to the members of Common Cause NY, a nonpartisan organization that produced district maps of their own, if there a 63rd district was added, it would have to be downstate because of the increase in New York City's population. Adding representation in upstate, rural areas dilutes where the true power lies: minority, downstate voters.
Sampson believes that there's yet another reason behind the potential 63rd seat.
"If you want to be honest, there wouldn't be justification for the 63rd seat if it wasn't for the prison issue," Sampson said. The "prison issue" he mentioned stems from last year's upholding of a state law that requires inmates to becounted as part of the home district's population and not in the district where they're held behind bars. This practice was used to bolster the numbers of rural populations for the sake of drawing district lines for many years.
Unfortunately, this is just the beginning of how the GOP wants to dilute the power of the Black vote. In Long Island, Nassau and Suffolk counties have seen increases in their Latino population and many towns are predominantly Black. The new district maps don't create a majority- or close to majority-Hispanic district in Suffolk County and it failed to create what's considered an effective 50 percent or more minority district in Nassau County. But Nassau meets all of the legal Voting Rights Act tests.
New York State Democratic spokesperson Mike Murphy emailed a study to the AmNews that breaks down exactly how Nassau and Suffolk counties are getting the short end of the stick. According to Murphy, "Long Island's total non-Hispanic white population (all ages) declined by 89,228 (4.1 percent) during the 1990s, and by a further 159,315 (7.6 percent) in the 2000s.
"Long Island's total population nevertheless grew by 5.5 percent during the 1990s and by 2.9 percent in the 2000s, keeping pace with the statewide growth rate and maintaining Long Island's share of representation in the State Senate only because the growth of minority-group populations more than offset the decline in the non-Hispanic white population." However, Murphy says the 2012 Senate proposal minimizes the role of minority voters in electing Long Island's state Senate delegation. Sampson agrees.
"In Hempstead, they divided almost the entire minority population up in order to protect the Republican majority," Sampson said.
But all of the power rests with New York Gov. Andrew Cuomo. While he's a Democrat in name, there's still a fear of appeasing the Republican majority in the Senate to keep the peace, but there's hope. During a question and answer session last Friday, Cuomo said if the proposed lines came to him without any changes, he'd veto it.
"I think anyone who looks at those maps sees political machinations," said Cuomo. "You don't have to look hard."
If Cuomo is a man of his word, the Democrats are in the clear, but as Sampson stated earlier, the party and its supporters have to look out for the potentially revised list and be just as vigilant about alleged gerrymandering. The Senate minority leader also knows it's the process that can drive people away from politics. He hopes jaded, cynical voters don't give up.
"It's not about the lines with us. It's the process," said Sampson. "As long as it's dictated by partisan politics, voters and minorities will always be disenfranchised. When you talk about Martin Luther King, whose birthday we just celebrated, and Black History Month, which is happening now, until we understand that all people deserve to choose their representatives, we will always continue to fight what Dr. King fought."