Explosion at Boston Marathon kills 3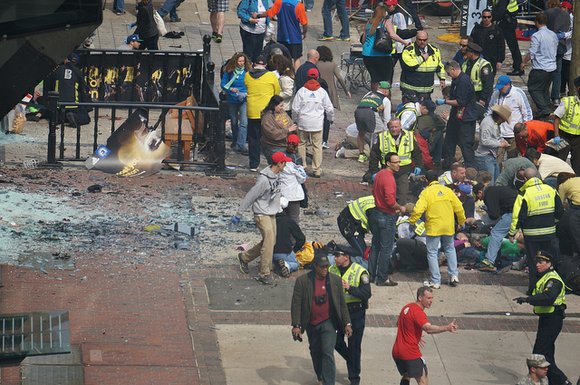 Reports indicate that two explosions occurred at 2:45 p.m. at the Boston Marathon on Monday near the finish line. The blasts left three people dead and nearly 150 injured according to local media outlets.
Another explosion was reported at Boston's JFK Library and is believed to be connected.
Smoke from the explosion at the marathon could be seen while people crossed the finish line on Copley Street. The explosions occurred ten seconds apart. Authorities have not announced who is responsible for detonating the explosive devices.
"There were two bombs that exploded near the finish line in today's Boston Marathon. We are working with law enforcement to understand what exactly has happened," marathon officials said in a statement.
The nearby Lenox Hotel was evacuated along with subway service in the area area being suspended. The Mandarin Oriental hotel in Boston has also been evacuated because of reports of a suspicious package. Media outlets are reporting that other explosive devices in Boston are being dismantled.
Video footage after the explosions show a frantic scene with several people being taken to the hospital. Windows from buildings nearby blew out as a result of the blasts. Social media is buzzing with gruesome photos of the bloody scene.
National Guard troops are assisting Boston police and the Red Cross is helping with those injured.
The Boston Marathon attracts over half a million spectators annually. Over 20,000 people participate in the race which started in 1897.
In New York City, security has been stepped up at hotels, popular locations and transit hubs. Foot traffic was shut down on Pennsylvania Avenue near the White House in Washington as a precaution.
"We still do not know who did this or why ... but make no mistake: We will get to the bottom of (this)," said President Barack Obama. "We will find out who did this. We will find out why they did this. .... Any responsible groups will feel the full weight of justice."