The mouthpiece of 14 million people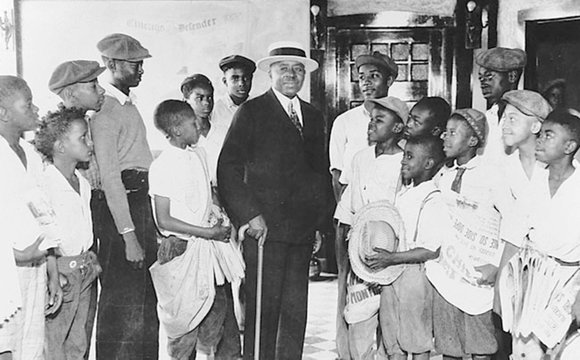 The Chicago Defender was a giant of the Black press. It was launched on May 5, 1905, by Robert Abbott. Working from a small kitchen in landlady Henrietta Lee's apartment, with just 25 cents and a press run of 300 copies, Abbott started what would be lauded as "The World's Greatest Weekly." By the start of World War I, the Defender was indeed the largest and most influential Black newspaper, with two-thirds of its readers outside of Chicago.
Abbott was born on Nov. 24, 1870, on St. Simons Island, Ga. His parents, Thomas and Flora Abbott, were former slaves owned by Capt. Charles Stevens, who had a plantation on the island. Thomas Abbott died while Robert was still a baby. Flora Abbott later met and married a German, John Sengstacke, who had quite a history of his own. His father, Herman, was a wealthy merchant who married a slave woman whom he purchased from an auction block in 1847. John Sengstacke was sent to Germany to be raised. When he returned to the states, he met and married Flora Abbott. He would raise Robert like his own.
Abbott studied the printing trade at Hampton Institute and, later, received a law degree from Lent College of Law in Chicago. But it was nearly impossible for a Black man, not even one as talented and ambitious as Abbott, to find work as a lawyer. After trying unsuccessfully to establish law offices in Gary, Ind., Topeka, Kan., and Chicago, Abbott went back to the printing trade and started the Defender, and with it, created a powerful voice for Chicago's Black community and a legacy that continues to this day.
The first editions of the Chicago Defender were four-paged, six-columned handbills with local news items gathered by Abbott and clippings from other papers. Abbott was reporter, editor and newsboy, selling his paper from door to door. The Defender quickly set its own tone. It did not use the words "Black" or "Negro." African-Americans were referred to as "The Race." Black men and women were called "Race Man" and "Race Woman."
The Defender was militant and bold in condemning racism and crimes against Black Americans. It became famous for blazing headlines, red ink and graphic images that unabashedly showed how Blacks suffered under the yoke of injustice in the United States, including the atrocities of beatings and lynchings. The paper began to attract national attention.
The paper aggressively promoted the Great Migration (1915-1925), which it referred to as "The Great Northern Drive." The Defender urged Southern Blacks to head North for better opportunities. It featured job listings and train schedules. As a result, more than 110,000 Blacks poured into Chicago alone, nearly tripling the city's Black population. The Defender provided firsthand coverage of the infamous Red Summer Race Riots of 1919, which broke out in cities across the country. It pushed for integrated sports and legislation to end lynching. Famed writers Langston Hughes and Walter White were columnists. The paper also published the early poems of Pulitzer Prize-winning poet Gwendolyn Brooks. The Defender, however, did not support Black Nationalism or Marcus Garvey's Universal Negro Improvement Association. Abbott remained a staunch foe of Garvey.