The mouthpiece of 14 million people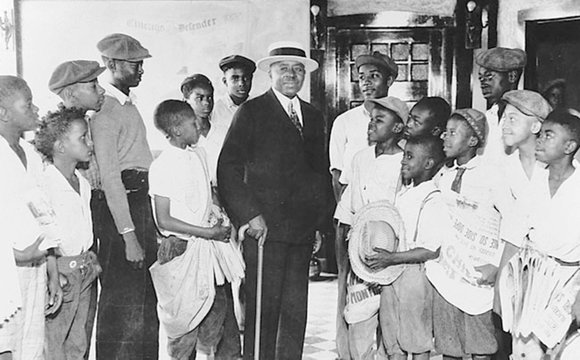 It was no surprise that distributors in the South refused to circulate the paper, but that didn't stop people from reading it. The paper was smuggled in by Pullman Porters and traveling entertainers. It was passed from person to person and read aloud in barbershops and churches.
The Chicago Defender was the first Black newspaper to have a circulation of more than 100,000, a health column, an entertainment section and a full page of comics. The city of Chicago was presented as a lively and attractive place for Blacks to live. By the 1920s, circulation was over 200,000. At the height of its popularity, it is estimated that each copy sold was read by four or five others, putting its actual readership at more than 500,000.
In 1923, Abbott and editor Lucius Harper created the Bud Billiken Club, named for a fictional character Abbott created, and organized annual parades to promote healthy activities for Black youth. The tradition continues each year on the second Saturday in August. The parade is the oldest and largest African-American parade in the country and the largest single event in Chicago. Like our own African-American Day Parade held in Harlem, the Bud Billiken Parade features music, marching bands, celebrities, politicians and beauty queens. Famous people like Michael Jordan, Joe Louis, Muhammad Ali, Duke Ellington, Oprah Winfrey, Lena Horne, Ethel Waters, Cab Calloway, Paul Robeson and Billie Holiday all attended the parade over the years.
The success of the Chicago Defender made Abbott a wealthy, powerful and influential man. He was one of the nation's first Black millionaires and was dubbed "The Colored William Randolph Hearst." Abbott used his position to help others. He purchased a house for his former landlady who offered her kitchen to him when he first started out and who continued to support him as he struggled to get his paper off the ground. He helped aviator Bessie Coleman get to France where she learned to be a pilot. Coleman would become the first Black female pilot. He even gave financial help to the white family who had owned his father after they fell on hard times.
Abbott died of Bright's Disease on Feb. 29, 1940, at age 69.
His nephew and heir, John Herman Henry Sengstacke, took over the paper in 1940 and continued his uncle's policy of championing Black people on its pages. Among his own accomplishments was his influencing President Harry Truman to issue an order ending segregation in the military. Sengstacke also helped integrate Chicago's city government. He pushed for President Franklin D. Roosevelt to create skilled management jobs for Blacks in the postal service. Sengstacke became the first president of the National Negro Publishers Association, an organization founded to establish unity among the Black newspapers. There are more than 200 Black newspaper members in the organization, known today as the National Newspaper Publishers Association.
On Feb. 6, 1956, the Defender became the Chicago Daily Defender, the largest Black-owned and -operated daily in the world.
Sengstacke established his own newspaper empire with Detroit's Michigan Chronicle, the Tri-State Defender in Memphis, Tenn., and the Pittsburgh Courier. He served as publisher of the Defender until his death in May 1997.
On Feb. 13, 2008, the Chicago Defender returned to its roots as a weekly publication.