Ghana and Israel team up for kids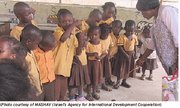 Imagine a kindergarten in Ghana--a dull, undecorated room full of mismatched furniture with nowhere to move around, no books or toys, and with as many as 60 to 100 children from kindergarten age to10 years old, many of whom are slow learners. They learn by listening to an unmotivated teacher and parroting the lesson by rote. It's not a stimulating environment for teachers or their students.
In 2006, Millennium Cities Initiative (MCI) and MASHAV, the Agency for International Development Cooperation in Israel's Ministry of Foreign Affairs, came together in an initiative to greatly improve early education for children in the Ghanaian city of Kumasi, the country's second largest city, which had recently been declared a Millennium City, meaning that a set of goals for the city had been put in place.
Janette Hirchmann is the former director of the Golda Meir Mount Carmel International Training Center in Haifa and planned courses in Israel for educators from developing countries.
"By 2015, the millennium goals should be reached. One of the goals is education for all elementary school children. It was decided by the Ministry of Education in Ghana. Until then, kindergarten and early education were not part of the education ladder," she said.
"This project is grassroots in origin. The old curriculum was very rigid. Roughly 80 teachers were emerging from teacher training each year. But those teachers needed to be retrained themselves, as they were stuck in the old methods. This project and its success has now brought to light the fact that the old system must change from philosophy through training.
"This small project that started with five schools and 25 teachers has been a tremendous influence in seeing preschool education in a different way. The Ministry of Education has made a five-year proposal for training all kindergarten teachers in Ghana to work toward a child-centered philosophy," Hirchmann said.
Gladys Amaning is among five educators selected to go to Israel for training and is a staunch and tireless leader of the initiative. "Preschool education was reviewed and it was decided that if the foundation was well-planned, then education through the primary through upper classes would be solid. With the government's review, a law was passed in 2007 that preschool should come onboard the mainstream of education. It was not a part of the system, and therefore, they were not operating as they should be internationally," she said.
"Teachers were not well-trained. Some just wanted to honestly help children. It was a place for mothers who just needed to put their children somewhere. School was like a day care situation instead of a real learning environment. Until now, this had been the model," Amaning said.
In 2008, MCI collaborated with MASHAV and the Mt. Carmel Training Center to bring two non-religious missionaries to Kumasi and do a fact-finding exercising and find out how to upgrade the kindergarten system. What they found was that teachers were not specially trained to teach kindergarten-age children. They were as bored as their students. Teachers and students frequently skipped class. The system was bad, but it was the only system in place.