Boston Locked Down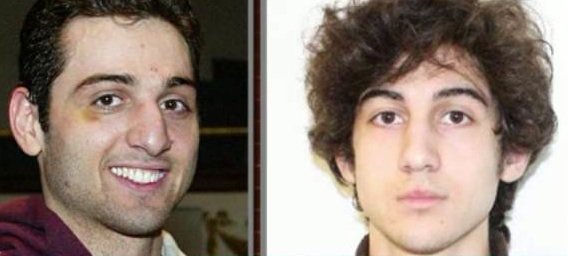 Boston remains on lockdown, as the FBI - along with local law enforcers search for Dzhokhar Tsarnaev, 19, the second suspect in the bombing of Monday's marathon. News reports have stated since Friday morning, that his brother, Tamerlan Tsarnaev, 26, was killed in a firefight with law enforcement on in the early hours of Friday.
On Thursday night, after the fatal shooting of a police officer at the Massachusetts Institute of Technology, there was a massive shootout with police, Dzhokhar Tsarnaev, managed to escape the dragnet - hence the massive manhunt.
Two bombs went off near the finish line of Monday's marathon, killing three people and injuring more than 170 people. The nation mourned. President Barack Obama went to Boston on Thursday to pray with the people and pledge that they would find the perpetrators.
On Thursday afternoon the feds released photos of the two Tsarnaev brothers. The FBI said they were to be considered armed and dangerous.
That night, police officer Sean Collier, 26, was killed on the MIT campus after gunfire was exchanged. Then reports state that the two men carjacked a vehicle at gunpoint, later releasing the driver, and tried to use his ATM card. Spotted and chased by cops they two men lobbied bombs at them. There was another gunfight, where another officer was seriously wounded.
Reportedly the Tsarnaevs are the sons of Chechen refugees from Russia's Caucasus region. Apparently, the family moved to the US in 2001, from Russian republic of Dagestan - settling in Cambridge, Massachusetts.