Central Park Five: 24 years later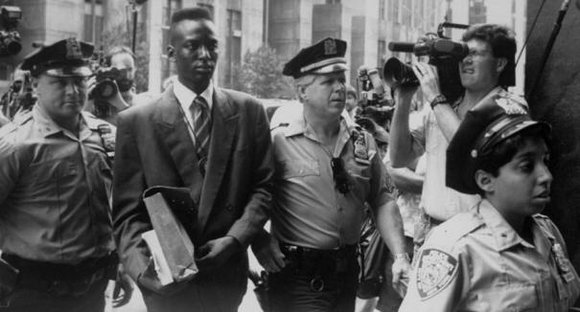 For almost as many years as they have been alive, five Black and Latino New Yorkers have been notoriously known as the "Central Park Five." This Saturday, April 20, they will observe the 24th anniversary of their false arrest and incarceration at a rally and march at the Harlem entrance of Central Park to demand that the city pay them reparations.
They were mere teens when the New York City Police Department, city prosecutors and a lynch mob made up of the mainstream press--egged on by full-page ad-taking, execution-demanding Donald Trump--labeled the innocent kids as marauding youth who attacked and raped a white female jogger.
The teens, Kharey Wise, Yusef Salaam, Raymond Santana, Antron McCray and Kevin Richardson, spent between six and 13 years in prison. Comptroller John Liu has urged Mayor Michael Bloomberg to stop the city's stalling and settle the case as it goes through federal court.
"It just seems that this administration--for whatever reason--does not want to get resolution in this matter that has been outstanding for 10 years," Liu told the AmNews. "I believe that it is an irresponsible position and not in the best interest of New Yorkers, both from the viewpoint of what's right and wrong, and also from a fiscal perspective."
Attorney Michael Tarif Warren has been on the case since 2002. The noted warrior attorney praised the consistent public engagement in the case, telling the Amsterdam News, "We the lawyers are going to continue on, but the people are the real engines. They bring about justice with the rallies and other engagements here."
Called to the case by activist Elombe Brath and now state Sen. Bill Perkins, Warren said he signed on as lawyer for Kevin Richardson, Raymond Santana and Antron McCray. He was joined by his wife, Evelyn, and attorney Roger Wareham.
On April 19, 1989, 28-year-old Trisha Meili was attacked and raped while out jogging through Central Park. The five young Black and Latino youths were picked up for the crime.
They were arrested, questioned and allegedly intimidated and coerced by "New York's Finest" into giving statements, tried in the media and sentenced.
Warren says that the investigators always knew that no DNA evidence linked the five youngsters to the heinous crime, so they pushed the disputed confessions as their main point of their case. In 2002, Matias Reyes confessed to the crime. While serving a life sentence for rape and murder, he just happened to bump into Wise. He confessed. Lo and behold, his DNA was a match with Meili's attackers.
Despite this admission that he acted alone when he committed the vile act when he was 17, and despite the mountain of evidence, key players in the case whose stock had risen because of it--namely Elizabeth Lederer, Manhattan ADA Linda Fairstein and cop Mike Sheehan--claimed that their case was solid and, someway, somehow, the five boys-to-men had to be involved.
However, as the din from Central Park Five supporters grew louder, District Attorney Robert Morgenthau had to follow the evidence. Finally he recommended to vacate the convictions. New York Supreme Court Justice Charles J. Tejada did so on Dec. 19, 2002.