Rep. Hakeem Jeffries pushes anti-gun violence focus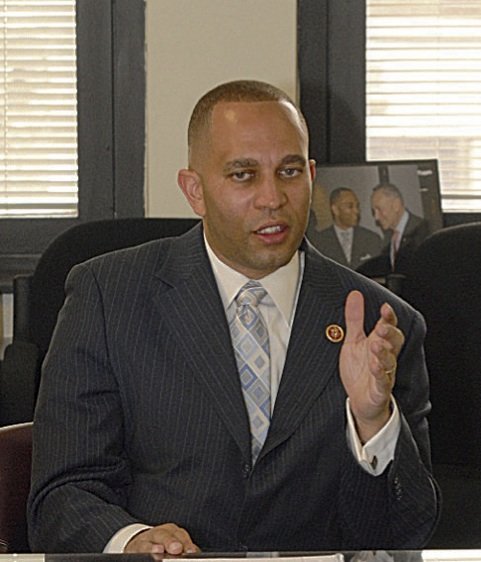 This week, Brooklyn Rep. Hakeem Jeffries held a press conference at his office on issues ranging from the deficit, immigration and Hurricane Sandy to the need for greater governmental intervention on gun violence in central Brooklyn.
When the congressman took office in January, he said that he would address the need for gun reforms to detour the gun violence that continues to plague his district.
"We need to deal with the gun violence problem that continues to impact many African-American neighborhoods in New York and throughout the country," said Jeffries. "Gun violence is a problem that every New Yorker should be concerned about."
Last year, there were 632 victims of gun violence in Brooklyn. Further proof of this widespread problem were the 174 shooting victims in the 73rd and 75th precincts. "In these two communities alone, there is approximately one shooting victim every 48 hours. This situation is intolerable," the congressman added.
Jeffries will join other members in Congress to push for significant legislation that could curtail the flow of illegal guns coming into the city. He also supports a federal anti-gun statute designed to help stop the flow of guns between one state and another in a way that takes advantage of what he says is "the poorest gun laws that exist in many parts of the country."
It appears that the Senate would have to act before the Judiciary Committee moves forward to discuss a gun violence package that will be sent to the House of Representatives.
"Here in New York, Commissioner [Ray] Kelly talks about the pipeline of guns that come from the Deep South up the I-95 corridor into communities like Bedford-Stuyvesant, East New York, Brownsville, Harlem, southeast Queens and the Bronx," stated Jeffries.
The state gun trafficking statute will be designed to confront the massacres that the country has seen in Colorado, Arizona and, most recently, Connecticut.
"The assault weapons ban and the prohibition of high ammunition clips will be the toughest to pass in the Senate and will certainly encounter difficulty in the House of Representatives," said the House Judiciary Committee member.
In the upcoming months, Jefferies will address other key issues that include creating jobs, restoring the abandoned Rockaway Beach rail line and crushing the debt burden facing college and graduate students.