Grand Jury sets Richard Haste free, again, in shooting case of Ramarley Graham
Amity Paye | 8/7/2013, 11:15 p.m.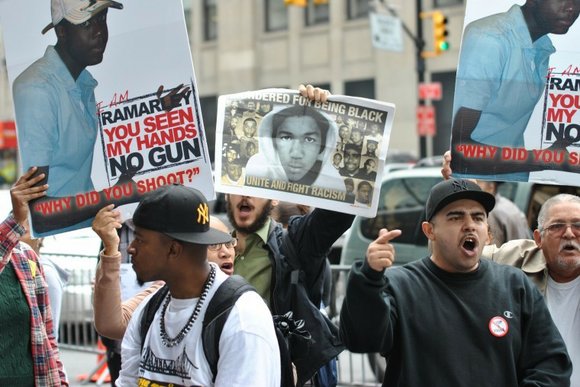 The long saga to find justice for Ramarley Graham has reached yet another stop.
According to police accounts, 18-year-old Graham was "acting suspicious" outside a bodega in the Wakefield section of the Bronx. Narcotics NYPD officer, Richard Haste, chased Graham into his grandmother's home, shot and killed him on February 2, 2012 as Graham tried to flush a small bag of marijuana down the toilet. Both Graham's grandmother and 7-year-old brother were in the home when he was killed and Haste claimed Graham had a gun, but no gun was found.
For nine weeks, every Thursday from March 24, 2012 to July 19, 2012, family members, friends and supporters of the slain teen held candlelight vigils outside the Bronx home where he was killed.
"We want a grand jury," Constance Malcolm, the mother of Ramarley Graham, told the Amsterdam News in May. "We are not going to take this lying down."
Haste was arraigned on June 13 at the Bronx Criminal Courthouse, pled not guilty to manslaughter charges and made a $50,000 bond.
A Bronx Grand Jury was convened and on June 11, 2012 and Haste was indicted on first and second-degree manslaughter charges. But in May, 2013 State Supreme Court Judge Steven Barrett dismissed the manslaughter charges against Haste on a technicality, ruling that the prosecution had not given proper instructions to the grand jury.
Over 100 people rallied when Barrett announced the ruling in and Graham's family and allies continued to push for a second Grand Jury. Supporters included representatives of the Justice Committee, the Stop Mass Incarceration Network, The Campaign to End the New Jim Crow, Al Sharpton, John Liu and other local politicians.
"Police brutality is being pushed under the rug. If we don't stand up and let the world know that we are not going to take it anymore, this could happen to other children. This is not just happening in New York. This is happening all over the world," Malcolm told the Amsterdam News in May, 2013. "This incident happened in my house. No warrant. You mean to tell me that we are not even safe in our own houses anymore? He came into my house and murdered my son in front of my mother and my 7-year-old."
Prosecutors finally, quietly announced in mid-July of 2013 that they would reconvene a grand jury to consider whether to re-indict Haste on Manslaughter charges and finally announced they would not on August 7, 2013.
In the wake of the well publicized and polarizing Trayvon Martin case, Ramarley's has struck an even stronger chord in his Bronx community. "The not guilty verdict became the replay of the night Zimmerman took Trayvon's life," read an email from Malcolm in the wake of George Zimmerman being found not-guilty. "Please do not let this happened to Ramarley. Do not let Richard Haste walk free as did Zimmerman. Please continue to help us fight the fight. As you see, there is no justice but injustice."
Those displeased with the court's most recent ruling have called for a August 8 Press Conference at 1 p.m. and Rally at 5 p.m. "to protest the grand jury decision to let NYPD Officer Richard Haste walk free," according to an announcement from justicecommitte.org.
"Ramarley's family and supporters worked tirelessly to ensure a new grand jury was convened. However, today this new grand jury failed to indict NYPD Richard Haste, in spite of the fact that Ramarley was unarmed and didn't run. In spite of the fact Haste broke into his home and killed him in cold blood," reads the announcement. "Tomorrow we will show our rage and demand a federal investigation into this case."