District Council 37 and others rally to keep immunization clinics open
Stephon Johnson | 8/8/2013, 9:50 a.m. | Updated on 8/8/2013, 9:50 a.m.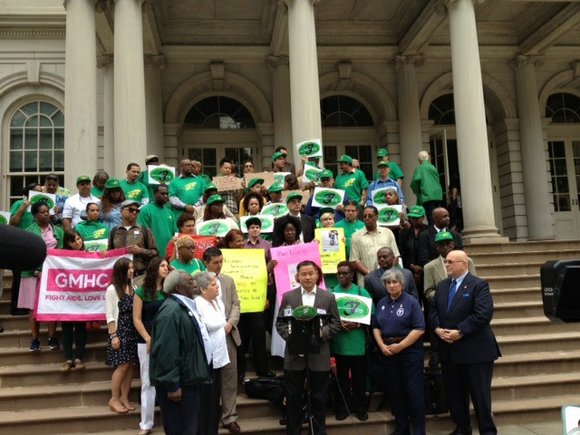 On Wednesday, union members, activists and elected officials alike gathered at City Hall to demand that immunization clinics remain open in some of the more underserved neighborhoods.
District Council 37, the largest public employee union in New York City, stood with allies like Make the Road New York and the People's Budget Coalition to urge the New York City Department of Health and Mental Hygiene (DOHMH) to stop plans to close walk-in immunization clinics in the Tremont section of the Bronx and the Corona section of Queens, just in time for National Immunization Month this August.
DC 37 Executive Director Lillian Roberts derided DOHMH's actions, calling them "a threat to public health and safety" and reminded those in attendance that with the school year creeping up on New Yorkers, back-to-school vaccinations are needed now.
In 2012, the Tremont and Corona clinics immunized a total of 29,108 people, with 9,650 of them being children. The immunization clinic in the Fort Greene section of Brooklyn immunized 27,090 people last year, with 5,599 of them being children. Once the closures come to fruition, the immunization clinic in Fort Greene would be the only DOHMH clinic offering free and low-cost immunizations in the five boroughs. The clinic will only open for only four hours a day Monday through Friday.
DC 37 and others have claimed that DOHMH has abandoned a major part of its public health mission and has increased the risk of public influenza outbreaks like H1N1 and MRSA over the past several years.
New York City Council Member Julissa Ferreras, in attendance at City Hall, was none too happy with the DOHMH.
"As the chair of the Women's Issues Committee, I find it very distressing that the Department of Health will be closing their only immunization center in Queens, especially at a time when mothers are getting their children ready to go back to school," said Ferreras. "The loss of these immunization clinics will not only create a burden for hundreds of New Yorkers who currently rely on their services, but it could also lead to significant public health risks."
Fellow Council Member Letitia James followed suit, stating, "The remaining Fort Greene clinic—which would have limited hours—simply cannot handle this citywide demand. There are no clear 'cost savings' in this plan, and to spring this proposal on parents at the 11th hour is unfair."
When open, the DOHMH walk-in immunization clinics provide the important immunizations that are recommended for children above the age of 4, teenagers and adults, including hepatitis b, diphtheria, tetanus and pertussis (aka whooping cough), measles, mumps, rubella h and others.
Council Member Joel Rivera felt that the forcing those without many means to travel through one or two boroughs and wait for the immunization their children need is a bit overboard.
"This is an inconvenience at a time where children's entrance to school this fall will be jeopardized," said Rivera. "Busy parents are now expected to travel to Fort Greene, Brooklyn, from the Bronx to get their children vaccinated within the limited clinic hours along with the rest of New York City once the Tremont Health Center closes."