Ebony Escapes! through the amazing National Park System
Lysa Allman-Badwin | 8/8/2013, 10:29 a.m. | Updated on 8/8/2013, 10:29 a.m.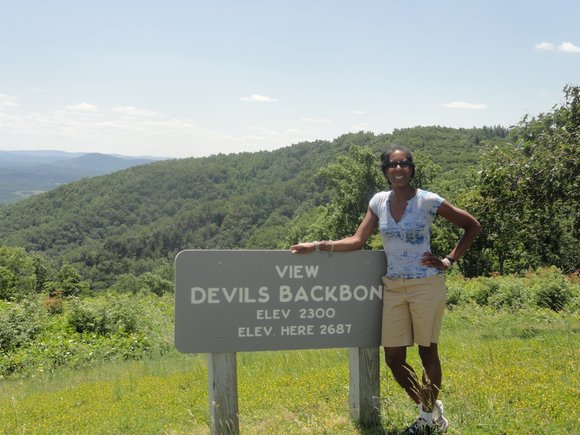 I have to say that I was very disappointed when Oprah and her gal pal Gail visited Yosemite National Park in Northern California a few years back, and she said she couldn't see why any Black people would spend their money to go and sleep outside on the ground. Their visit was at the personal request of African-American park ranger Shelton Johnson, a historian at Yosemite who has also worked in other national parks.
His goal was to expose everyone to the beauty and rich history of these natural wonders, but more specifically, to attract African-Americans and other people of color who are sorely underrepresented visitors to the parks.
Although Oprah travels in a much different way than the rest of us, I believe she missed the whole point—that our national parks are amazing treasures that offer a great deal for everyone, regardless of their ethnic background.
My mother, sisters and I camped a great deal when we were growing up and visited many entities of the National Park System. I have continued to do so into my adult years, having visited Yosemite, Mt. Rainier, Point Reyes National Seashore, Yellowstone and Virgin Islands National Park, among others.
What those experiences brought and continue to bless me with—whether I was camping or visiting for the day—was not just the static when, where, how and why these landscapes came into being, but also the history of the many pioneers, historians, preservationists and others who have dedicated their time, talent and treasure to safeguard these national treasures for generations to follow. But moreover, for me, these visits offer very intangible yet palpable spiritual and emotional benefits that can only be found out in these most precious of God's creation.
Several years ago, I interviewed African-American authors Audrey and Frank Peterman, who embarked upon a life-altering, 12,000-mile, 40-state trip around the country to visit national parks from coast to coast. Upon finding that they were the only people of color they saw, they came home, inspired to dedicate their lives to making national parks and public lands attractive and welcoming to people of color—specifically African-Americans and Latinos. They have written "Hidden in Plain View: A Black Couple Reveals Secrets of Our National Parks, Public Land and Environment," "Legacy on the Land: A Black Couple Discovers Our National Inheritance and Tells Why Every American Should Care" and "Our True Nature: Finding a Zest for Life in the National Park System," in which they share their experiences with the beauty and wonder of the national parks and explain why the parks are so important and play a pivotal role in our African-American heritage.
No matter where you live in the country, you will find simply awe-inspiring national parks, each offering its own distinctive topography, weather, wildlife, visitor opportunities and more.
One of the most diverse national parks in America, Acadia National Park in Bar Harbor, Maine, is home to 320 species of birds and 50 species of mammals and sits on the boundary of two of North America's major botanical zones. www.nps.gov/acad/index.htm