Epic Fail Bloomberg's Department of Education 'F' Grade
8/8/2013, 9:04 a.m. | Updated on 8/8/2013, 9:04 a.m.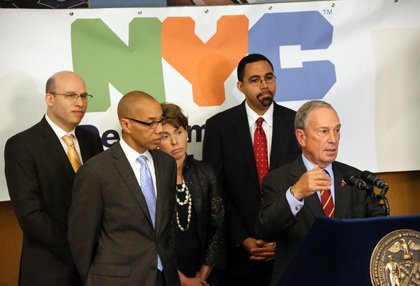 Well, the scores are in. Mayor Michael Bloomberg's decade-plus of dabbling in the New York City public school system has resulted in what some are declaring to be an abysmal failure.
As New York City's 2013 standardized test scores were released on Wednesday, Bloomberg's Schools Chancellor Dennis Walcott was telling parents to brace themselves for the incredibly awful test scores and not to be alarmed.
Parents, students and general observers are alarmed.
New York City's first Common Core standardized test scores had the city stunned. The report showed that only 55.1 percent of all students in grades three through eight met or exceeded the standard in English. In math, only 64.8 percent met or surpassed the bare minimum needed to pass the examination.
Only 46.1 percent of African-Americans in New York passed or scored highly on the math examination, and 37.2 percent of African-Americans passed or scored highly in English.
"High standards are what we as parents have for our children, but we have been sold a bad bill of goods with Bloomberg's testing obsession. We demand the DOE not use these tests scores for more high-stakes consequences and call on the next mayor to investigate whether or not any progress has been made in the last decade. It's clear our students have not been given the college-ready education they deserve," said Zakiyah Ansari, spokesperson for New Yorkers for Great Public Schools.
"We have known for over a year that a higher bar would initially mean lower scores," said Walcott. "But this change is important, and students, teachers and schools will not be penalized by the transition. With an unprecedented amount of support being provided, I have full confidence that schools will effectively take on this challenge and students will reach this higher bar, as they have many times before."
With the new, largely unexplained and somewhat unannounced Common Core State Standards sweeping the nation's public schools, there seems to be more instances for confusion. Since Bloomberg took over the reins of the Department of Education, his push for the colocation of charter schools and school closures, the Cathy Black debacle and conflicting annual test scores have led United Federation of Teachers President Michael Mulgrew to call Bloomberg's reign a "decade of disaster."
"New York City public schools' reportedly dismal results on the new state tests send a clear message: Mayor Bloomberg and his Tweed cronies have been cooking the books on student test scores for 12 years," said City Comptroller John C. Liu, slamming the new state Common Core test scores. "Pointing to rising high school graduation rates, the mayor claimed that high stakes testing was leading to greater student achievement and teacher accountability. He excoriated teachers and others who pointed out the flaws in his analysis.
In fact, the regime of teaching to the tests pushed kids out the schoolhouse door, even if their diplomas were worthless and their skills did not permit them to succeed in college or jobs. Mayor Bloomberg had 12 years to advance his so-called reforms and pad his educational legacy. He failed. He cannot spin these results to mean something they don't. New York City's children deserve better."