Epic Fail Bloomberg's Department of Education 'F' Grade
8/8/2013, 9:04 a.m. | Updated on 8/8/2013, 9:04 a.m.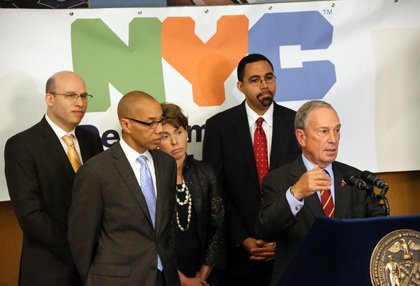 "New York is taking the right step forward in giving our children a true college, and career-ready education. Today's scores are a reflection of more rigorous expectations and higher standards as the assessments are now aligned to mark and measure what it truly takes to prepare students to succeed in our global economy," said Duncan.
According to the DOE, across the city, 15.3 percent of Black students met the proficiency standards in math, a higher proficiency rate than all students in the four other large urban cities in New York state. The percentage of Black students who were proficient in English in New York City was 16.3 percent, which is higher than the English proficiency for all students in three of four other large urban districts. The DOE said that starting the week of Aug. 26, the public can learn more about the new tests at arisparentlink.org.
But Anderson calls the Common Core States Standards program a part of an "educational genocide" that does not give a holistic, comprehensive or culturally relevant curriculum to the city's 1.1 million public school students. A member of the Coalition for Public Education and Black New Yorkers for Educational Excellence, Anderson, who has taught at various colleges and universities for more than 40 years, has called on education activists to fight for the future of the city's public school students. Anderson, who is also the co-founder of the National Black Education Agenda, held a panel this past Sunday (including this journalist and parent of public school children) discussing Common Core State Standards and how he felt it would decimate education as we know it.
Anderson said that folks should not be surprised that the test scores were so atrocious. "Because we have had a perfect storm for high stakes disasters to take place, we have had the highest number of poorly trained and culturally alienated TFA [Teach for America] new teachers in history. We have had the fervent build-up of a test-anxiety-ridden school culture that has resulted in thousands of students with related physical and mental ailments. We have had a bewildering number of Common Core State Standards goals and objectives unexplained and a vague set of rules and curricula content that forced in-class/in-school revisings to happen all year long with no help from the Tweed Educrats—just pontificating pronouncements about the 'wonders and value of the Common Core' [and] workshops and seminars for teachers that were 'full of sound and fury ... signifying nothing' ... leaving thousands of our teachers more bewildered than before these 'Learning About CCSS' sessions."
According to Anderson, adding to the confusion was a curriculum of exclusion, with the standard Euro-American cultural references, the "erosion of ELL [English Language Learners] education to the point of being a symbolic gesture rather than an integral part of a child's learning experience," and the disregard for the fact that "New York City now has a majority of students of African descent who are either first generation U.S. or were born outside of the U.S. Their cultures and intellectual contributions to civilization are not even discussed. They are very alienated from the content of these exams."
Anderson noted that these abyssmal scores "can be used as ammo in our fight to get the state legislative body to repeal the buy-in to the Common Core State Standards and to offer an alternative and more productive forms of assessment of our children's academic development. We have the expertise and experience and the track record to offer a viable alternative to the corporatized and Eurocentric, anti-critical thinking CCSS set of miseducation policies."