Losing faith: Bed-Stuy hospital scheduled to close
Stephon Johnson | 8/8/2013, 9:11 a.m. | Updated on 8/8/2013, 9:11 a.m.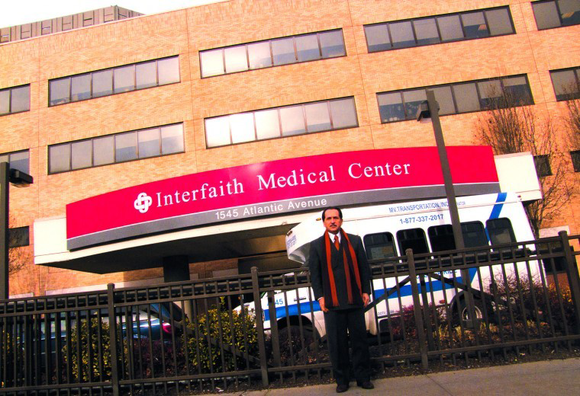 Interfaith Medical Center's best days in Bedford-Stuyvesant might be behind it.
According to court papers, the hospital stated that the New York State Health Department rejected a restructuring plan and refused financial help until the hospital begins its shutdown process. A request was then put in to begin bankruptcy proceedings, with the closing motion set to be held on Aug. 15 in United Stated Bankruptcy Court in the Eastern District of New York.
The court is expected to approve of Interfaith's request for bankruptcy proceedings. As part of the schedule, when approved, closing calls for inpatient admissions would end this week and the emergency room would close on Sept. 14 once ambulances were diverted from the emergency room. Inpatient services and outpatient services would be done by the middle of October and the process would end with the closing of the rehabilitation centers on Nov. 14.
The hospital also sent layoff warnings to all of its 1,544 employees, who serve the mostly African-American and Caribbean enclave in central Brooklyn. Hospital spokespeople have said that the state's Health Department left them little choice, but workers, activists and politicians have still come out against the latest developments.
"The closure of Interfaith will be a blow to the people and neighborhoods of central Brooklyn who need health care services, and that is unacceptable," said Kirsten John Foy, chair of the Brooklyn Conference of Chapters of the National Action Network. "Corporate interests and mismanagement have hemorrhaged cash out of the hospital and left it in financial straits, which is deeply troubling, and calls for a serious investigation rather than a shuttering of the hospital.
"First it was St. Mary's Hospital, now it's Interfaith. What is clear is that this hospital is on the front lines of fighting the dual scourges of gun violence and HIV/AIDS, and its closure would represent a retreat in our battle to save lives, equating to a death sentence for hundreds, if not thousands of New Yorkers."
Two Thursdays ago, Interfaith met the deadline to submit a closure plan after the hospital filed for bankruptcy last December. On top of the closure plan, officials submitted one more restructuring plan, hoping that New York State Health Department wouldn't force them to shut down. IMC's the only fully-operating medical facility in Brooklyn's Bedford-Stuyvesant neighborhood. Two out of every five patients at IMC are HIV-positive.
"Losing Interfaith is not an option," said New York City Public Advocate and current mayoral candidate Bill de Blasio in a statement last week Wednesday. "No one of conscience can stand idly by while more than 175,000 Brooklynites are forced farther from their nearest emergency room or lose critical HIV/AIDS and mental health services. We're prepared to take whatever steps are required—from direct action to appealing to the courts—to keep the doors of community hospitals open."