Creative jazz musician and producer George Duke dies at 67
Ron Scott | 8/15/2013, 11:58 a.m. | Updated on 8/15/2013, 11:58 a.m.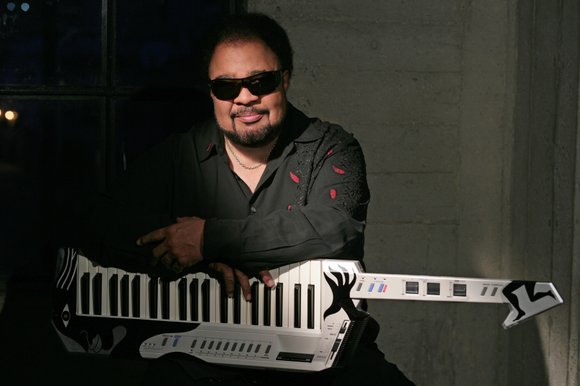 George Duke, the uncomplacent keyboardist, arranger, producer and singer who stayed energized by crossing and mixing the genres of funk, jazz, fusion and R&B, died on Monday, Aug. 5 in Los Angeles. He was 67.
Duke was being treated for chronic lymphocytic leukemia, said his manager, Darryl Porter, who confirmed the death.
Just last month, Duke and his longtime collaborator Stanley Clarke performed as the Clarke/Duke Project (formed in 1981) before a sold-out audience at Manhattan's Blue Note jazz club.
The Grammy Award winner played funk and jazz solos and duos on piano and keyboards. On piano, he played the heartfelt ballad "Missing You," dedicated to his wife, Corine, who died from cancer last year. His latest album, "DreamWeaver," was released last month.
The duo recorded three albums for Sony Music, one of which included the hit "Sweet Baby" an up-tempo ballad that hit the Billboard singles chart at No. 19 in 1981; they later returned to the charts with "Shine On."
Although they didn't make the charts with the cover of Richard Berry's 1955 now legendary song "Louie Louie," (on their debut album for Sony Music), the duo did manage to give it yet another twist that differentiated it from the many versions performed by various other musicians.
"George Duke's life is to be celebrated because his life is about achievement, discipline, structure, love, focus and extreme ability," Clarke said in a statement emailed to the Associated Press. "He lived the life of 30 musicians. He attacked life as much as life attacked him. He was a true soldier of music. He could very possibly be the nicest man I've ever met."
Duke was a respected jazzman who played both the keyboard and synthesizer. He started playing piano at the early age of 4 after being inspired by a performance of Duke Ellington. After high school, he earned a bachelor's degree in trombone and composition with a minor in contrabass from the San Francisco Conservatory in 1967.
He later earned his master's degree in composition from San Francisco State University. He also taught a course on jazz and American culture at Merritt College in Oakland, Calif.
As a multi-instrumentalist, Duke refused to be categorized. Inspired by Ellington, Duke seemed to follow his premise that there is only good music and bad music. Duke's music was always good, and when the critics tried to pigeonhole him, Duke jumped the genre fence into another spectrum.
"I was in a rock band, I played with a bunch of Brazilians, I played R&B with Parliament-Funkadelic and all of that," said Duke in a recent interview. "I mean, I've done jazz with Miles Davis and Cannonball Adderley. It's a goulash. It's a gumbo."
His song "I Love You More" was sampled by Daft Punk for the 2001 hit "Digital Love."
One of the earlier jazz fusion albums recorded was from violinist Jean-Luc Ponty and the George Duke Trio in 1969. Duke also played with the Don Ellis Orchestra. He later joined Frank Zappa and the Mothers of Invention band through the 1970s, appearing on many of his albums and in the film "200 Motels." It was Zappa who encouraged Duke to play the synthesizer.