Ebony Escapes! to find America's best food trucks
Lysa Allman-Badwin | 8/15/2013, 10:57 a.m. | Updated on 8/15/2013, 10:57 a.m.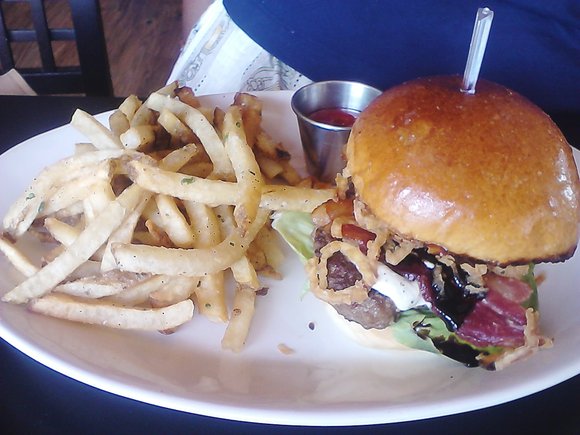 When I first got acquainted with what are today called food trucks, it was the early 1980s, when only a small handful of these rickety, off-white with rust "accents" buckets of bolts used to rumble up to certain office buildings mid-morning, filling the air with the heavy aromas of bacon grease, grill smoke and motor oil.

In those days, we used to call a food truck "The Roach Coach," and God only knows what kind of sanitary conditions were really going on behind the big sliding glass windows reminiscent of our childhood ice cream truck days. A plate of pancakes and sausage, egg sandwiches, toast and bagels—that was pretty much the menu. And it was as lousy as it was cheap, but hey, it was hot, convenient and would hold us over until lunch. Looking back, I think most of us are lucky we lived to tell about it.
But this was way before proper food sanitation practices existed for rolling restaurants (and I use the term "restaurant" very lightly) on wheels, gained in popularity—and safety.
Fast-forward to about five years ago when the food truck scene really started heating up, and today they are the hottest thing going. In fact, an ABC News online feature recently reported that these "mobile restaurants are the fastest-growing segment in the dining industry." And if you've checked out the Travel Channel lately, you've seen not only episodes of food-related shows dedicated to food truck fare, but also some of your favorite epicurean hosts taste-testing from coast to coast.
SOMEONE'S IN
THE KITCHEN
The chefs of these food trucks are not only chefs by profession, but a wide variety of folks who got into the business for many reasons: The economy changed and necessity became the mother of personal reinvention; they were tired of corporate America and wanted to follow their passion; or a relative or friend asked them to help out on weekends and they ended up becoming a partner. The stories are almost as diverse as the array of culinary specialties you'll find everywhere, from corporate business parks to public fairs, private parties, food truck festivals and permanent truck locations.
Each one has their own special, delicious focus and specialty, and the crowds flock from all over, braving lines sometimes almost an hour long for their favorites. Fans enjoy everything from seasonal menus created from locally grown ingredients to upscale burgers, schnitzel, barbecue, gourmet grilled cheese, burritos, empanadas, pizza (of course) and even lobster—yes, lobster!.
Wanna know where to find some of the best for your own gastronomic exploration? Well, you're in luck because the Daily Meal just-released their annual report, "101 Best Food Trucks in America 2013."
These folks are people after my own heart, lending their bodies to the culinary sciences just to bring readers the best personal information. To compile a comprehensive list, they canvassed more than 40 cities to check out close to 450 street vendors. "To those we added staff favorites, and any trucks not already included that have been singled out for praise by organizations, and national and local publications, both in print and online," they said. And they were very specific that they had to be food trucks—no carts or trailers—and included only a few dessert trucks that went beyond serving coffee, cupcakes, ice cream, shaved ice and the like. That still left a hefty list of 270 that they judged on three criteria: critical review, social score and originality.