Faithful rally for Interfaith?
Nayaba Arinde | 8/15/2013, 9:38 a.m. | Updated on 8/15/2013, 9:38 a.m.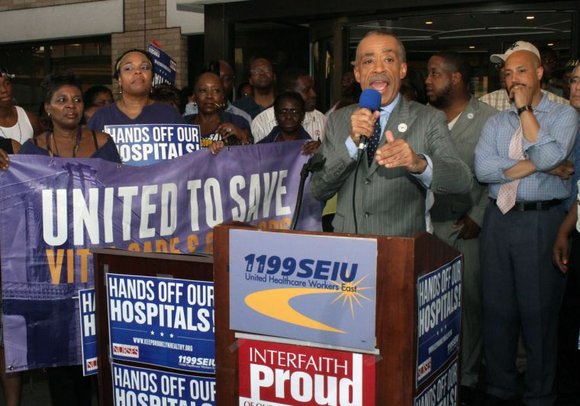 "Gov. Cuomo will be signing the death warrants of hundreds if not thousands of people from the Central Brooklyn area if he does not stop the effort to close Interfaith," said activist minister the Rev. Herbert Daughtry. "This community and beyond needs this hospital. Thousands of people rely on it."
A spokesman for Gov. Andrew Cuomo told the AmNews, "State officials are working tirelessly to ensure that residents served by Interfaith continue to receive quality health care services in their community. The governor is fully committed to finding a solution that not only maintains current services in the community, but also lays the groundwork for long-term investments that will improve overall health outcomes and meet the area's health care needs."
Meanwhile, it's been a trying week for those supporting hospitals that are on the brink of closing, but that doesn't mean their work stops. Last week, court papers revealed that the hospital requested that bankruptcy proceedings begin as soon as possible. The New York State Health Department rejected a restructuring plan and refused financial help until Interfaith begins its shutdown process.
Initially, bankruptcy proceedings were set to be held on Aug. 15 in U.S. Bankruptcy Court in the Eastern District of New York. As part of the schedule, ifapproved, closing calls for inpatient admissions would end this week, and the emergency room would close on Sept. 14 once ambulances were diverted from the emergency. Inpatient services and outpatient services would be done by the middle of October, and the process would end with the closing of the rehabilitation centers on Nov. 14.
This week, however, it was announced that bankruptcy hearings would be pushed back from Aug. 15 to Aug. 26. That gives activists and the New York State Nurses Association time to regroup and figure out the future of their livelihoods and Interfaith.
In a letter to his constituents, New York City mayoral candidate and current Public Advocate Bill de Blasio addressed the slated closings of Interfaith and Long Island College Hospital (LICH) and the necessity of Brooklynites having a hospital they can get to quickly in case of an emergency.
"New York City has already lost more than a dozen hospitals in the past decade, contributing to a growing health care crisis," wrote de Blasio. "It is important that New Yorkers are aware of these imminent service cuts, which could dramatically increase travel time to the nearest hospital for more than 250,000 Brooklyn residents."
"As I write, two safety-net hospitals in Brooklyn—Interfaith Medical Center and Long Island College Hospital (L.I.C.H.)—are poised to shut their doors," continued De Blasio. "And four more neighborhood hospitals—Wyckoff Heights Medical Center, Kingsbridge Jewish, Brookdale and SUNY Downstate—are teetering on the brink. We cannot afford to lose these vital health care facilities, and we will keep fighting to keep their doors open."
It might have been midnight on Saturday, but that didn't stop a host of Central Brooklyn residents from belting out at the top of their lungs, "Keep Interfaith open, Cuomo!" while City Council candidate Jelani Mashariki marched around the embattled hospital on Atlantic Avenue in Bed-Stuy. Doctors and nurses fired up residents, activists and political figures such as Comptroller John Liu, Jelani Mashiriki and District Leader Robert Cornegy for the overnight vigil this past weekend.