Free your mind from your hair
Renee Minus White | 8/15/2013, 10:43 a.m. | Updated on 8/15/2013, 10:43 a.m.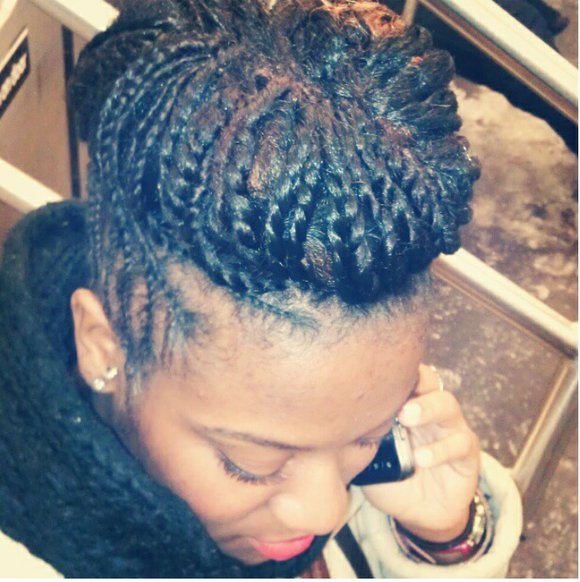 Your hair is alive! Is your mind is free from your hair? Today's woman of color feel more comfortable about their hair than ever before. It's a subject that's been discussed and commented on by African-American women for years. You can see by the hairstyles on the street today that we have come a long way on the subject of hair. The talk about "good hair" and "bad hair" is no longer relevant. When you walk through Harlem and anywhere in the world, you will see women of color wearing their hair as they please. Someone from Washington, DC, commented: "Women of color are loving their hair, but many women are not wearing their own hair." [ED NOTE: Where did this comment come from? Blog? Direct quote to writer?] And the point is, it's their choice.
For this piece, we spoke with the masters: haircut specialist John Atchison, owner of John Atchison's Salon on Madison Avenue; George Buckner of Hair Fashions East, now at Atchison's Madison Avenue salon; and Paula Dowds, owner of Ms. P's on West 117th Street in Harlem. They all have several years of hair designing experience under their belts; no one knows better than these specialists about the way women are feeling about their hair today. We also talked with an officer in the U.S. Air Force who's a mother of young girls. All of their comments were extremely interesting.
Back from Iraq after a six-and-a-half-month tour, Keayana Nicola Minus came home to find that her hair was dry. While she was away, her two young daughters, left here in the U.S., experienced dry hair and hair loss. She immediately began a special regime of conditioning, oiling and moisturizing their hair. The results were significant. Their hair is now growing with a healthy shine. For little girls, it's important to comb their hair every day. It helps them to feel better about their hair.
"You see so many variations of hair and hairstyles today," said Atchison in an interview at his Madison Avenue salon.
What's new in hair today? "Natural hair is big, and so are kinky-curly and wavy-curly hairstyles. Combinations of color and textures are news. The top hairstyles include short or long hair and weave looks that are sewn in, glued in or clipped in," Atchison said.
Do women still entertain many myths about their hair? "Women are free to express themselves as individuals with their hair. There are so many choices. It's now acceptable to have color. The show business stars like Beyoncé and Rihanna have influenced today's hairstyles. Young women want to look or wear their hair like them. So they are being more daring. We are seeing more cuts, highlights for older women, too," said Atchison.
With weaves, sanitation is very important. Make sure your stylist/technician uses sanitized tools. Sanitized and sterile hair pieces come in a package. You can find hair pieces in a beauty supply store at affordable prices. Remember that with all of the options women have with their hair today, they all come with a cost. You should seek the advice and services of a professional. If weaves are not attached to hair or removed from hair properly, you can suffer some hair loss in the process.