Melvin Van Peebles, renaissance man, makes visual art debut
Souleo - | 8/21/2013, 11:37 a.m. | Updated on 8/21/2013, 11:37 a.m.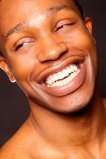 To bring the joint to life, Sallid has enlisted the talents of a cast including Eugene Fleming, singer/actress Lillias White and Grammy nominee Tamar Davis. The project is a labor of love for the Harlem native that developed his first dance company at Lenox Terrace, home to some of New York's political power players. Sallid hopes that by telling the story of Harlem's famed past audiences will see reflections of their own modern lives.
"This show is more than a walk down memory lane. It is musical revue that speaks about love, life, heartbreak, hope, sadness and jealousy," he says. "These ideas transcend race and transcend nostalgia. It becomes more of an idea about a culture that speaks to the past and to the present. It is my interest to speak to all people through my culture. Many of the values and attitudes that are in my show are in us all."
With this week's features it's clear that one of the great abilities in us all is the strength, courage and energy to reinvent ourselves at any stage in life.
---
The weekly column, On the "A" w/Souleo, covers the intersection of the arts, culture and entertainment scene in Harlem and beyond and is written by Souleo, founder and president of event/media content production company, Souleo Enterprises, LLC.