Romanian snaps up deals for west African resources
8/21/2013, 10:53 a.m. | Updated on 8/21/2013, 10:53 a.m.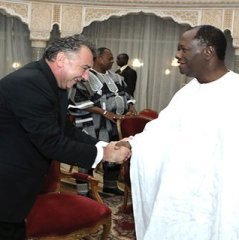 Aug. 20 (GIN) – Flying just under the radar, a Romanian national has been signing lucrative deals for manganese, oil, gas and other high value minerals, leading flattering news reports to dub him "the Emperor of West Africa."
Frank Timis, CEO of Pan African Minerals, was treated like royalty this month by country leaders after buying up the rights to mine precious manganese from Burkina Faso. In exchange, Timis promised to extend the region's railway and link Niamey in Niger to coastal Abidjan in Cote d'Ivoire via the capital of Burkina Faso, Ouagadougou.
Construction of the railway has been central to plans to exploit manganese at the Tambao mine since it was discovered in 1959. Tambao is expected to yield up to 1 million tonnes a year. The increased rail capacity will support growth in foodstuff and livestock industries, and the establishment of the largest manganese extraction project in the world.
The seven-year railway project, like colonial-era ventures linking resources to ports, is to begin next year.
Manganese is a metal with important industrial metal alloy uses, particularly in stainless steel.
Timis is expected to make billions from the exploitation of manganese in Tambao. Other operations run by Timis are African Minerals in Sierra Leone, and African Petroleum in Liberia. Pan African Minerals, the latest offshoot of the Timis Corporation, has its eye on new frontiers.
The EU and French governments are said to be financing the Niamey-Abidjan initiative, with private investment from Timiş, whose company secured the rights after a long history of legal squabbles between the government of Burkina Faso and several successive prospectors whose mining rights were controversially canceled.
"We desperately need railways," said Moussa Akfar, a Niamey resident. "Our roads are not practical. They are in such poor condition – it can take hours just to travel 80 miles."
But the project was flawed, he confessed. "These plans to create railway links with the ports in Cotonou and Abidjan are only concerned with transporting goods. They will not make it easier for people to move around." Urban development expert Abeiku Arthur added: "Transport is supposed to be about the movement of people, goods and services, and the first of those is people."
Meanwhile, shares in Timis' African Petroleum fell 90 percent over the past 12 months and an effort by Timis to sell his Liberian property to China, before oil was found, shocked many in the industry. An investigation by the industry's regulatory body is underway. w/pix of F. Timis and Cote d'Ivoire Pres. A. Ouattara