Fun, functional, healthy and stylish gear for the traveler on the go
Lysa Allman-Badwin | 8/22/2013, 11:37 a.m. | Updated on 8/22/2013, 11:37 a.m.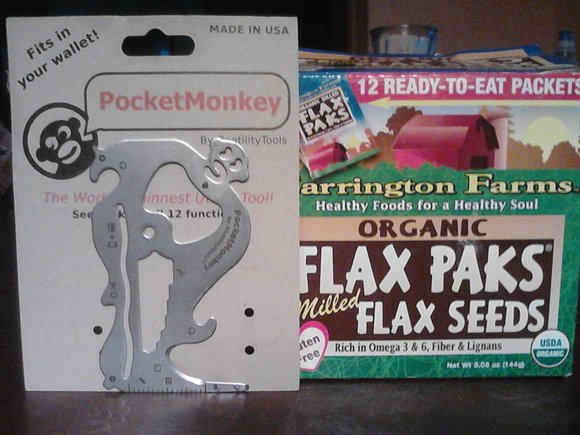 One of the pleasures—and hazards—of frequent travel is all of the fantastic meals along the way. Although, foodie that I am, I enjoy every bit of it and try to eat as healthy as possible, I (willingly) succumb to a lot more calories and a lot less fruit and veggies on the road. So in addition to drinking a lot of water and taking my vitamins, I take a few Flax Paks along.
Ready-to-eat, organic and available in convenient, portable, single-serving packets, Flax Paks are rich in omega-3s, fiber, antioxidants and minerals. And because the flax is milled instead of chopped, it mixes easily into smoothies, cereal, yogurt, oatmeal, salads, casserole dishes and more. If you're sensitive to grainy textures or chalky flavors, you'll find that once mixed in, you barely notice it's there. The company also makes a Flax Chia blend, a Flax Hemp Blend and other healthy products, all of which are organic.
Who says you can't stay regular and healthy when on the go?!
Pocket Money
Back in the day when I was young, the catch-all, must-have, multi-utility item was a Swiss Army knife. And although it was small enough to fit in a pocket or purse, it still had a little bit of weight to it and stuck out. Nowadays, I'm not even sure you can take it past some security checkpoints.
Not to worry, because now there's Pocket Monkey. Made of hardened stainless steel heat treated to 4X normal strength and weighing only one ounce, Pocket Monkey slips right into any wallet credit card slot or into a pocket or purse and is TSA-compliant.
It serves an astounding 12 functions: bottle opener, flat screwdriver, Phillips screwdriver, micro screwdriver, phone kickstand, hex wrenches, orange peeler, door latch slip, earbuds cord wrap, letter opener, ruler and straight edge. According to Zootility Tools, which makes Pocket Monkey, "It is the functional gadget that even MacGyver would love." Now if could only get it back from teenager No. 1, who snatched it up the moment I got it …
Baby'd got Airbac
When I fly, I typically take my airline carry-on suitcase and only one large bag for everything else—purse, paperwork, cell phone, camera, makeup bag, jewelry, one change of clothes, water and snacks. It all needs to fit under the seat in front of me!
You can imagine that with all that stuff, it doesn't take long for the weight to pile on. Then I discovered AirBac.
Reportedly the only backpack with a patented air support system, Airbac is a true therapeutic back solution designed to alleviate pressure and take strain off your back. The kicker is that it automatically adjusts to your body's shape every time to fit what you have inside. In addition to outstanding air-cushioned protection and built-in shock absorbers, it promotes better posture and spinal alignment, which enables your body to relax in an upright position instead of bent over because of the weight inside the backpack.
Even if you're not traveling with it but need to haul around a lot of technology, school books or other items, it's a great asset and well worth the money (MSRP is $89.99) to help save you from having back problems down the road.