Commemoration and progression
Tamerra Griffin | 8/29/2013, 10:25 a.m. | Updated on 8/29/2013, 10:25 a.m.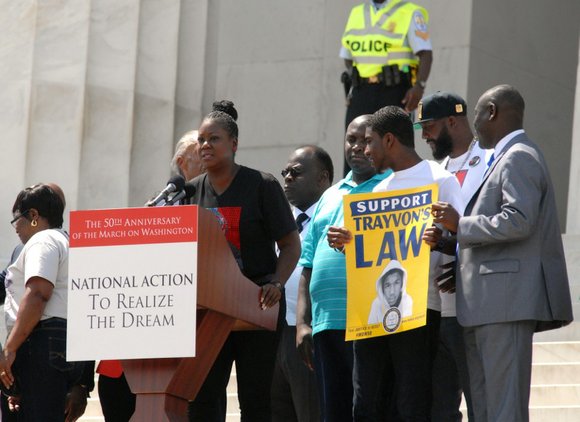 The strides and setbacks made on the path to achieve social justice in the United States cannot be measured like spaces on a board game. For every piece of legislation enforcing civil rights, there have been threats in multiple states to amend the Voting Rights Act. For every the Rev. Martin Luther King Jr. and Joseph Lowery, there have been both a Barack Obama and a Ramarley Graham. But on Saturday, Aug. 23, advocates of the self-evident truths upon which the country was founded showed up in droves to attend the 50th anniversary of the March on Washington for Jobs and Freedom.
People utilized every mode of transportation to get to Washington, D.C.; the buses alone easily covered the expansive parking lot outside Robert F. Kennedy Memorial Stadium. Whether they lived a handful of stops away on D.C.'s Metro or crossed the country from Seattle, it appeared that few factors would discourage people from showing up to commemorate the historic day in 1963 on which King delivered his seminal "I Have a Dream" speech.
Throughout the day, powerful call-to-action speeches were delivered by Attorney General Eric Holder, Rep. Nancy Pelosi, Martin Luther King III, the Rev. Al Sharpton and others. Sharpton, who is founder and president of the National Action Network, sought to incite the tens of thousands who stood before the Lincoln Memorial to address three major issues: voting rights, racially disparate unemployment and gun violence.
"We want Congress to rewrite a Voting Rights Act, and we want to protect our right to vote," he said, the cadence of his voice instantly evoking many a Sunday sermon.
He also honored the lost lives from the Civil Rights Movement of the 1960s, particularly those who were dedicated to equal voting rights.
"We're on our way to North Carolina, Texas, Florida, and when they ask us for a voter ID, take out a photo of Medgar Evers. Take out a photo of [Andrew] Goodman, [James] Chaney, Viola Liuzzo. They gave their lives so we could vote," Sharpton said.
He often quoted sections of King's original speech, altering its context to reflect modern-day issues. The issue of gun violence, however, was particularly distinct to the present.
"We're got to fight against this recklessness that makes us so insensitive that we shoot each other for no reason," he said, seeming to speak directly to the younger generation. "Don't you ever think that Medgar Evers died to give you the right to be a hoodlum."
Sharpton introduced the families of Emmett Till and Trayvon Martin, who spoke briefly about continuing the fight against racial profiling. Although the murders of the 14- and 17-year-old boys, respectively, happened 57 years apart, their stories are often bound together in civil rights rhetoric.
Though he was technically working at the commemorative event, 19-year-old Justin Ford took heed of the various speeches given at the National Mall. The D.C. native works for Local 22, a stagehand union. He began setting up the Friday before and came back Saturday morning.
"It means a lot," said the second-year Allegany Community College student. "To see this many African-American people come out for anything is amazing. There's got to be at least a million people here."
The estimate may have been off, but the energy of the crowd that did show up to the march was more than enough to fill the space. The series of speeches and performances concluded with a delivery from "Big Six" member Rep. John Lewis from Georgia. What followed was a march that began at the Lincoln Memorial and eventually wound out of the National Mall.
Despite the throngs of various student groups, unions, activists and nonprofit organizations, crowds parted for the passage of Lowery, the first to lead the Southern Christian Leadership Council after King. Fifty years ago, he was the youngest speaker at the March on Washington. Today, he is the only surviving one.