Elders reflect on March on Washington
Cyril Josh Barker | 8/29/2013, 10:35 a.m. | Updated on 8/29/2013, 10:35 a.m.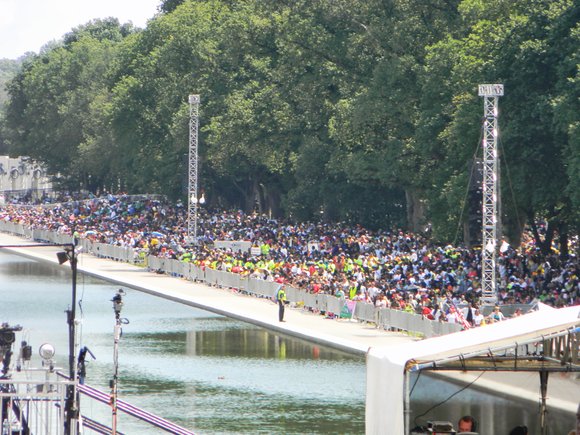 Bobby Cox and Juanita Steele set foot on the National Mall in Washington, D.C., for the anniversary of the March on Washington. Both attended the event with their memories of the past, but in a different America than the one they remember from 50 long ago.
Both Cox and Steele boarded a bus last weekend just like they did in 1963, but this time, they traveled with the ASFCME union from New York. The two migrated with many other Blacks during the 1960s from the South in hopes of better opportunities.
Cox and Steele are two of the thousands who heard King's historic "I Have a Dream" speech, which remains valid today. The issues of Emmett Till and voting rights have now been changed to Trayvon Martin and unfair voter ID legislation in 2013.
Cox, originally from North Carolina, moved to Brooklyn in the early 1960s and became a unionized metal worker. After living in a place where segregation was the norm, he attended the March on Washington and recalls the experience as monumental.
"We left early in the morning and got there at around 11 o' clock," he said. "There were a lot of people, and I remember it was a rainy day. We did not have Jumbotrons. All you could see were little dots on the stage. But we all came for one cause, and we were solidified for that one cause."
Steele had moved to New York from South Carolina after graduating from the historically Black Allen University. She recalled living in a world that included segregated drinking fountains, schools and streets. She moved to New York for work becoming a day care teacher.
She heard about the march through her church and had recently given birth to her first child at the time. She attended the march in 1963 with her uncle.
"I thought Dr. King's speech was great, especially the part where he said one day his children would not be judged by the color of their skin," she said. "I was there hoping for a better world for my own children. It really inspired me. At the time, we had no idea it was going to be so historic."
Going back to D.C. 50 years later, Cox and Steele said that they were satisfied with what they saw and happy to see so many young people out looking of change. Even though the year is different and several improvements have been made, both agree the nation has ways to go before it can be called an equal society.
Voting rights continue to be a hot-button issue for the movement, along with stop-and-frisk and equal education opportunities. However, racism still rears its ugly head. Just last week, news broke about a Black family being asked to leave a restaurant in Steele's South Carolina hometown because a white patron felt "threatened."
"Nowadays, more people are knowledgeable about what's going on," Cox said. "I think the message will resonate, but some people will never learn. You had some that came to the march just for the ride, while others came to work. Fixing things is going to take a while."
Steel said that the 2013 march was crowded and that it was great compared to 1963. The march opened the eyes of many young people, Steele observed.
"I thought it was remarkable. We have so much still to fight for," she said. "It feels like things that Dr. King was fighting for were progressing, but it feels like we are going backwards. They are trying to turn the clock back to the '40s, '50s and early '60s. I'm glad I lived to see another march."