Interfaith closure stayed
Cyril Josh Barker | 8/29/2013, 9:15 a.m. | Updated on 8/29/2013, 9:15 a.m.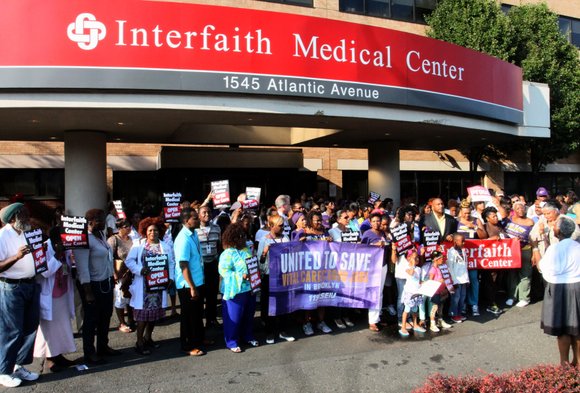 Reports indicate that the closure of Brooklyn's Interfaith Hospital is being pushed back to Sept. 11. The stay is a victory for workers, patients and community members who say the attempt at closure is illegal because it had not been approved by the state.
On Wednesday, Gov. Andrew Como released a statement on the Interfaith issue. He said the state and the hospital, along with the community, will work out the issues.
"The New York State Department of Health (DOH) on Friday requested the Federal Bankruptcy Court grant an extension in order to protect patients and ensure continuity of care," Cuomo said. "The court today granted an adjournment, giving DOH an opportunity to continue working toward a viable solution that meets the community's needs."
Key figures in the fight to keep the hospital open said it's also time for the city and state to step in and keep Interfaith open. Public Advocate and mayoral candidate Bill De Blasio said the community is looking forward to their finding a solution.
"It's time for the state Department of Health to come to the table with the people who do the work with the community members and actually try and resolve the outstanding issue," he said.