Is Robin Thicke trying to 'steal the soul?'
David Goodson | 8/29/2013, 9:44 a.m. | Updated on 8/29/2013, 9:44 a.m.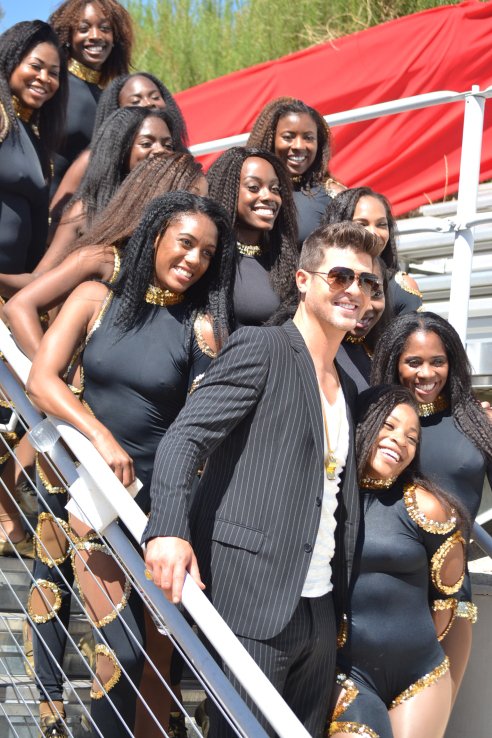 I was scratching my head about how I could broach the subject of Robin Thicke without ruffling some feathers, and I just couldn't put together the right combination of words. It's good to have friends that provide inspiration.
One of my boys has the knack of relating everything to the good book, so I found a scripture passage that came close to saying what I was trying to say. It reads, "For what will it profit a man if he gains the whole world and forfeits his soul? Or what will a man give in exchange for his soul?" Bingo! That verse applies to my thoughts on so many levels, but because one of my passions is music, I'll connect it to that.
In soul music—true soul music—the singer's voice evokes passion, pain, pleasure and perseverance. The music and lyrics will dictate the genre, whether it's R&B, gospel, hip-hop, reggae or jazz. Ironically and unapologetically, all of these are forms of Black music. It's like that, that's the way it is and that's how it's gonna be, right?
Maybe I need to pump my breaks and re-evaluate. When hip-hop hit the radar of the mainstream, one of the first arguments used to attack it was that it lacked musicality. The argument was that all they did was redo popular music beds and lay rhymes on top of them. Technology brought forth the advent of sampling, and then bands weren't even needed to replicate the tracks. I can't front; there are producers who are geniuses in using sampling as a creative tool, but for the most part, record labels have become so concentrated on this new wave of recording that they have founded departments focused on the legalities of sampling alone, thus making the practice profitable and sometimes lucrative to the artist who originated the material. Cool. But what they also did was make it so the talent bar could be lowered. Instead, they put much of their attention into recycling once well-liked material for today's hits, causing questions to surface as to why a song is popular. Is it because of familiarity, or is it because it's a good tune?
That leads us to Thicke's "Blurred Lines," arguably the hottest song of the summer. "Blurred Lines" is a staple on the airwaves across the board and rocked the 2013 BET Awards and, most recently, the MTV Video Music Awards.
That joint right there is a problem. I holla'd at quite a few folks that dig the song because of the obvious similarities to the Marvin Gaye classic "Got to Give It Up." So close are the songs in sound that some even suggested he may have disrespected the song by changing the lyrics; he should have just done a straight remake. That sounds fair. What ain't fair, however, is the denial that the two songs are unfamiliar in the least. Word? To make matters worse, Thicke, producer Pharell Williams and guest artist T.I. have filed a lawsuit preventing the Marvin Gaye estate from suing him.