Damien Escobar's sweet sounds of success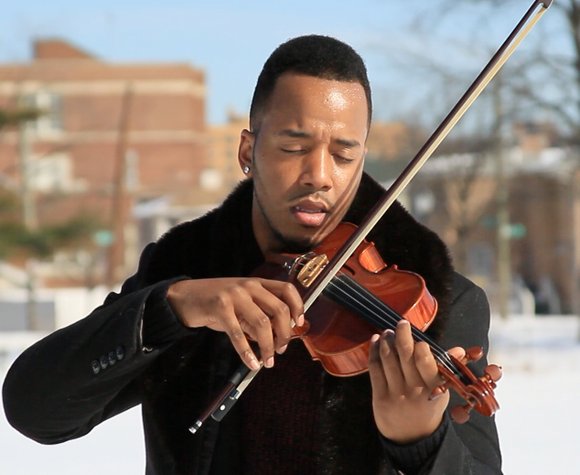 Violin virtuoso Damien Escobar takes the stage at Toshi's Living Room in the Flatiron District looking out to an audience that loves him. As he performs intricate covers of R&B songs by Alicia Keys, Genuwine and Chaka Khan on his instrument, the audience claps, sings along and cheers in amazement. The performance is one of many Escobar does as he continues his path back to music and rediscovery.
Opening the door to the concept of hip hop violin, Escobar is back on the music scene, this time, as a solo act. You may remember him as half of the duo Nuttin' But Stringz headlining with his older brother.
Nearly six years ago, the Jamaica, Queens native was at the height of his musical career with his brother Tourie. The two were known around the world for their gifted violin skills that landed them a spot on the TV show "America's Got Talent" and even a performance for former President George W. Bush at the White House.
Now at age 27, he's split from his brother citing creative difference and also went through several personal life experiences. All of this has led him back to making a name for himself in the music world with his unique talent.
Escobar got his start with his brother at age 7 performing in the subway and eventually got into the Julliard School at age 10. The two garnered appearances on "Showtime at the Apollo," "The Tonight Show" and "The Ellen DeGeneres Show." However, it was their appearance on "America's Got Talent" that put them into orbit.
"Being on there opened so many doors for us," he said. "After that, we performed in Dubai, on 'Dancing with the Stars' and got endorsements from McDonalds. We saw the world and did everything an artist would do without having a number one record."
The brothers split in 2012 and Escobar stopped performing. His once lavish lifestyle ended and he was left broke moving back in with his mother in Queens. Hitting rock bottom, he had to seek social services in an effort to support his growing family and also battled with depression.
At the same time he was scared of performing again due to the fact he never did without his brother. Escobar stepped away from music completely and was relieved from the pressure from the industry.
"Going back to the 'hood was the greatest thing and knowing who I am and what I came from. When I started in the industry I was 17. Being in the music business, the public became my friend," he said.
Moving forward with his life after the music industry, he became a successful licensed real estate agent. However, after several months, a friend told him he belonged in music and not behind a desk. Soon after he flew to France to play the violin for the first time in nearly a year for a TV show. The gig was turning point for him to start performing again.
"I quit my job and was thinking on the plane ride back that I wanted to get back into music," he said. "But this time, I wanted to target the mainstream audience."
He decided reintroduce himself online getting a video of himself posted on worldstarhiphop.com playing a medley of R&B songs on the violin. The video received over 200,000 hits in 24 hours going viral on social media.
People started reaching out to him from Trey Songz to Russell Simmons who asked him to perform at the 2012 Hip Hop Inaugural Ball. This year, he did a college tour and several corporate show performances.
Escobar released his debut solo mixtape of R&B covers titled "Sensual Melodies," which has received 85,000 downloads so far. In September he's releasing a single titled "Freedom" as an independent artist with a predicted album release in 2014.
"This is the freest I've ever been in my life," he said. "I just hope people like it and keep propelling me."