Malcolm X 'Diary' taken to court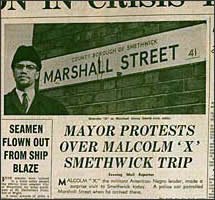 There is some confusion and tension over the latest book on Malcolm X, "The Diary of Malcolm X."
"It is insufficient, in my humble opinion, to honor and respect Malcolm X yet fail to honor and respect the legacy business of Malcolm X's children, which is solely owned by them to protect, safeguard and license the rights related to Malcolm X," family attorney L. Londell McMillan told the AmNews.
The now-in-court dispute arises out of the publication of a book containing diary entires and notes from the great Black nationalist icon. The family's attorneys argue that the publishers, Third World Press, did not have proper legal permission to print the tome.
Not wanting to get into a fight with people they respect, but determined to protect the legacy of Malcolm X, the family's attorneys say that they had no option but to go to court.
McMillan stressed, "On behalf of X Legacy LLC and the Shabazz family, the daughters of Malcolm X and I made numerous attempts to contact, discuss, settle and have Third World Press [publisher Haki Madhubuti and editor] Herb Boyd comply with the appropriate laws and business dealings related to the diaries, copyright, trademark and family matters related to Malcolm X, to no avail. We were forced to secure the injunction. Malcolm X's public life may belong to the people, but his intellectual property and publicity rights are proprietary rights owned and controlled by his heirs, all of the daughters.
Facts about Maclolm X
Malcolm X was murdered in Harlem on Feb. 21, 1965 while speaking at the Audubon Ballroom
His birth name was Malcolm Little
Was the head of the Nation of Islam's Mosque No. 7 in Harlem
Father of six daughters with Dr. Betty Shabazz
Known and respected Black Nationalist around the world
Buried at Ferncliff Cemetery in Ardsley, N.Y. with his wife Dr. Betty Shabazz and close to the grave of his recently murdered grandson, Malcolm Shabazz.
"Haki Madhubuti has been a trusted advisor and friend to this family for years; he knows all of the daughters but did not confirm his intentions to publish the 'Diary' and secure the rights to the work. He must be getting bad advice. He did not return my call."
"We signed a legal contract," Bennett Johnson, vice president of Third World Press, told the AmNews. "We acted in good faith, and we were quite surprised when Mr. McMillan showed up with his legal brief.
On Friday, Nov. 23 at a hearing in Manhattan, U.S. District Judge Laura Taylor Swain prolonged her ban on sales of the book until a January 2014 hearing, during which arguments and evidence can be presented. Swain warned an attorney for Third World Press that failure to comply could result in an order of contempt. Swain's ruling was a continuation of her disallowing the selling of the already controversial book on Oct. 8, when McMillan and some of Malcolm X's daughters sued the Chicago publisher, staying that Third World Press was infringing on their rights.