The African American community mourns the passing of Nelson Mandela
Amity Paye | 12/5/2013, 6:25 p.m.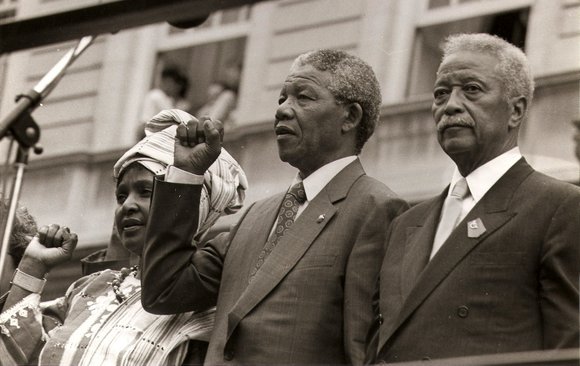 In July, in an interview with friends and family members who live in Madela's childhood home of Qunu, citizens were already grieving the loss of this powerful leader. People of the village were relfecting on Madela's life and success and what he has contributed to their lives.
Nomishini Krexa, a villager said, "Because of him we can feed our children. We have toilets, we have electricity. We would like to let him go but we're scared. He has done so much for us."
It was during primary school in Qunu that Rolihlahla received his Christian name "Nelson" from his teacher. Mandela completed his studies to earn a BA from the University of South Africa and later earned a two-year law degree, which he put to use in 1952 when he partnered with Oliver Tambo to establish South Africa's first black law firm, Tambo and Mandela.
"Against this backdrop, American civil and human rights advocates turned our attention to apartheid in South Africa. Nelson Mandela emerged as the cauldron for our fire and our greatest hope that we could all one day be free from oppression," wrote Wade Henderson, the president and CEO of The Leadership Conference on Civil and Human Rights in a statement. "Mandela's struggle, along with that of his countrymen, became ours. When apartheid finally ended, we were reminded yet again that an organized coalition in pursuit of justice can achieve great things."
He was first arrested, and served nine months in prison, after serving as the the National Volunteer-in-Chief of the Defiance Campaign, which used civil disobedience to protest against laws that unjustly limited the movement of Black and Colored South Africans.
""The Honorable Nelson Mandela embodied the hopes, dreams, aspirations and values of all who seek justice against tremendous odds. He responded to unfathomable violence with peace and courage, and in doing so he forever changed the world," wrote Roslyn Brock, Chairman of the NAACP Board of Directors, in a statement
In 1955 Mandela was arrested again in a countrywide police swoop that charged 155 activists. This lead to the 1956 treason trials, of which he was acquitted in 1961. Finally, during the famous 1963 Rivonia trials, Mandela and nine others were charged with sabotage and Mandela was sentenced to life in prison.
"I am heartbroken by the passing of Nelson Mandela, and my condolences go out to his family in their time of grief. Throughout his life and career, he was a paragon of the bravery and tenacity necessary to effect positive change in a world gripped by poverty, disease, and injustice," said Bertha Lewis, President of The Black Institute. "His courage inspired an international campaign that eventually led to his release after 27 years behind bars. Mandela negotiated for the end of Apartheid...Mandela's accomplishments should inspire those who find themselves embroiled in the struggle for peace, tolerance, and equal rights. Let us honor his life and his commitment by striving to advance his mission in our daily lives, and promote the values he championed through our choices and deeds"