Bill T. Jones, Alvin Ailey: Together again after 30 years
Charmaine Patricia Warren | 12/5/2013, 4:56 p.m.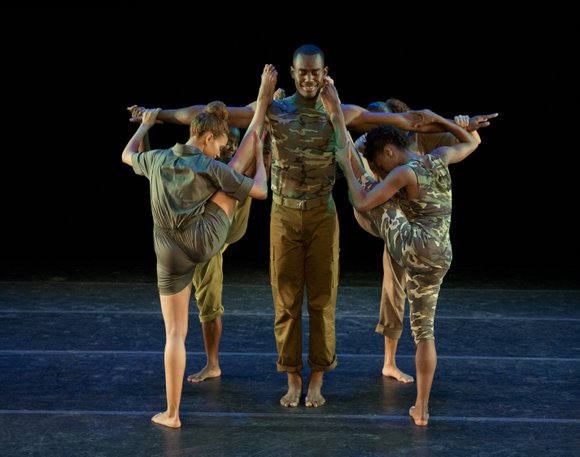 The year 1989 was when Alvin Ailey died, and it was also the year that Bill T. Jones choreographed the now classic work "D-Man in the Waters." Jones asked, "Would this work explain my life if I died tomorrow? I don't think so, however, it is an important aspect of my life's work."
It had been 30 years since Ailey invited Jones to create a work ("Fever Swamp," 1983) for Alvin Ailey American Dance Theater (AAADT), and though he admits he "would have preferred to make a new work, or something closer to what my company has been doing for the last 10 years, it was an invitation … which is something I have wanted … and Robert [Battle, artistic director] was brand new and I wanted to support him."
Battle, who was a high school senior in 1989, is clear. "Bill is a courageous artist, and it's important that we celebrate people who have made such an impact on the field," he said. The connection was rekindled. Battle added, "Bill was in rehearsal talking about Mr. Ailey and [suggested that the dancers] think about 'Wade in the Water' [from Ailey's 'Revelations'] at a particular moment ... doing some arm gesture … and said, 'Mr. Ailey is all over this work.'"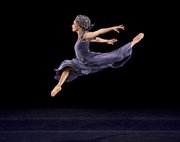 The process for bringing a work to a company unfamiliar with a cultivated style takes time, and admittedly, there isn't always a lot of time considering the vast AAADT repertory. This season, for example, there are four premieres. Jones' task is thus twofold: bring a work to the company and bring the dancers "into" the work.
Janet Wong, associate artistic director of the Bill T. Jones/Arnie Zane Dance Company (BTJ/AZ), generally begins the rehearsal process. Jones confirmed, "She takes the lead … [and] you can't beat her for accuracy." But when it's Jones' turn, he needs to know how the dancers discern concepts, such as weight-sharing, counter-balance, "where the work came from [and] what it means to [him] and [his] company." These are the triggers—the personal connectors that Jones set out to develop.
Jones explained, "At the second rehearsal, I was so moved that I had a 'Kumbaya' moment. I called [the dancers] to me … I played Papa … with my white hair, I'm able to do that now … I said, 'Look, I want you all to give me a big hug.' They surrounded me, and I said, 'I really love you and I'm proud of you … just do good work." The good work comes from tenacity and trust, because they must learn the work, understand the work and present the work within record time.
"Ailey is a very busy place," said Jones with a chuckle. "We don't have workshop time ... bless them, because to get the style and to get the spirit of it, there aren't a lot of opportunities, [but] they are smart. Sometimes I come in and I have to tear up what they have been taught … just to get at something that's been important to my company—the individual on stage [and] how this work relates to them. I try to get them to take chances … get him [Michael McBride, who dances a key role] to give me something spontaneous, but naturally to reach into himself and recreate the impulse for it. That's a very costly thing, but that's what the whole person-to-person transmission of being a dancer is about."