Bill T. Jones, Alvin Ailey: Together again after 30 years
Charmaine Patricia Warren | 12/5/2013, 4:56 p.m.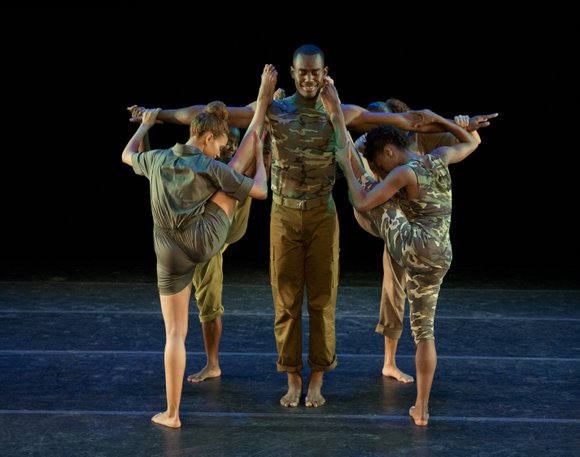 McBride agrees. "If you don't have everybody's back, there is no way that we can get through it," he said. "It's really exciting to work with a choreographer who pushes us … he saw that we were struggling a bit, so he worked with us individually … altering the whole thing for the dancers."
At 24 years old, "D-Man" was named "Outstanding Revival" by the 2013 New York Dance and Performance Awards, and the emotional charge is still as strong as it was in 1989, when Jones created the work as a response to the AIDS crisis. Dedicated to company member Demian Acquavella, who died of AIDS, "D-Man" celebrates life, the resiliency of life and the human spirit. McBride gets the significance in dancing the work.
"I wasn't around during the AIDS crisis, and I can't imagine what that was like, but I do know the feeling of loss," said McBride. "When I found out I was cast, it was on the three-year anniversary of my sister's passing. It's really emotional, and I struggle to find ways to release my built-up energy, and it so happened that we were working on this piece. It means a lot to me, [and] I approach the ballet with that feeling of fight."
Watching AAADT rehearse, Battle offered, "When I think about 'D-Man' and that relevance but see the playfulness and poignancy even in that walk—I call it the pimp walk … Bill talked about doing this walk—while people are dying all around you, but you still have to keep going."
Jones recalled, "There is a moment that happens when I do it with my own company … when they own it … working their way through it and they are exhausted, and then the image that I wanted becomes clear. Yes, we're doing modern dance movement, but we are actually talking about a community of people struggling to get through a very difficult obstacle course; to survive … and the audience should be able to see that … it's a living metaphor for something else." Thirty years later, Jones channels Ailey. "I said to Robert, this is really our patrimony, this is the dream that Alvin had for a lot of people … these are my grandchildren, if not great grandchildren. I wanted to embrace them and say, 'Yes, you've got my piece, but you know you are the next incarnation of what we need … that patrimony of a culture, and I'm proud of it," said Jones.
In addition to Jones' "D-Man in the Waters (Part 1)," this season's varied premieres include "LIFT" by Aszure Barton, "Four Corners" by Ronald K. Brown and "Chroma" by British choreographer Wayne McGregor.
"I think people sometimes don't appreciate [Mr. Ailey's] versatility," said Battle. "Some of the reflection of what I am trying to do is expressing his spirit of versatility and his genius."
"D-Man" premieres on Wednesday, Dec. 11 and continues throughout AAADT's five-week season, which runs Dec. 4 through Jan. 5 at City Center. For more information, visit www.alvinailey.org.