Colgate Women's Games continue at the Armory
Howie Evans | 12/5/2013, 3:17 p.m.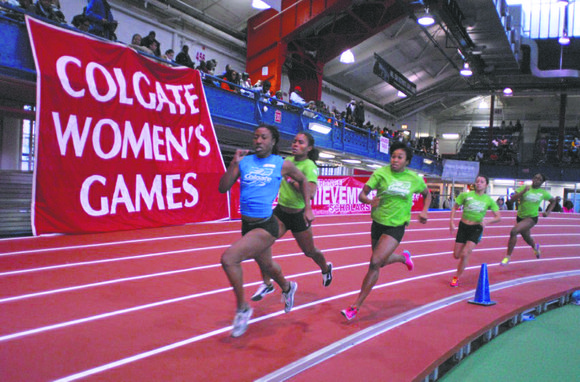 We met Fred Thompson over 40 years ago when he was waging war with the New York City Board of Education. The beef was over the almost total lack of educational and athletic sports programs for girls. Thompson, then a corporate lawyer (ABC) who was getting nowhere with the system, formed a track club for young girls, the legendary Atoms Track Club in Bedford-Stuyvesant, Brooklyn.
It didn't take long for the likes of former USA medal-winning Olympians Cheryl Toussaint-Eason, Lorna Forde and Diane Dixon and scores of other young ladies to run and jump to the most decorated local and national track club for girls on the map.
Along the way, Thompson was named the 1958 USA women's track and field coach. Thompson didn't stop there. He set up a meeting with the Colgate-Palmolive company, which came aboard as a national sponsors in 1973, assisting Thompson with Colgate-Palmolive educational programs, which now stand alone as the bell mark of Sports-for elementary Educational programs in the country.
The Atoms Track Club initially used local schools in Brooklyn as their stadiums, running around and around those hallways into local, national and international fame. In 1973, Thompson and Colgate-Palmolive organized the Colgate Women's Games annual track and field meet. Now, in its 40th year, the Colgate Women's Games is the largest such organization in the world for elementary school, junior high school, senior high school and college girl and scores of women 70 and over. The program is free to all, and female participants travel from all over the country every weekend.
The Colgate Women's Games preliminaries continues this weekend at the New Balance Track & Field Center at the Armory (216 Fort Washington Ave., New York). The semifinals will be held on Dec. 22 and the finals will be on Dec. 28 at the Armory.