De Blasio needs union and constituency support
Herb Boyd | 12/5/2013, 11:37 a.m.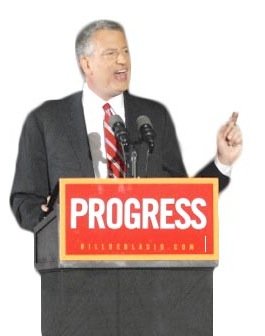 Among the agenda items for incoming Mayor-elect Bill de Blasio is how to placate the numerous public unions, many of whom have been working without a contract for years. This constitutes more than 300,000 workers, and critical among these city employees are the beleaguered teachers.
Now that he has completed his transition team and set the stage for his inauguration, there is much to applaud in his selection, though some would have had him choose a few more from the artistic and political activists' communities.
It was good to see that a recent Quinnipiac University poll found a significant majority of New Yorkers backing the mayor-elect's plan to tax the rich—an action he views as vital to gain the funds to educate every child in pre-K. The poll showed that 63 percent of voters in the state favor increasing the income tax on the wealthiest citizens, and this includes 68 percent of voters in New York City, 55 percent of voters in the suburbs and 64 percent who live in upstate New York.
This is very encouraging news, but its true resonance will occur if and when the measure is taken up by legislators in Albany. Also, the degree to which it appeals to Gov. Andrew Cuomo may by a critical element.
While the poll did not raise the issues of stop-and-frisk or affordable housing, there is some indication that voters might also favor these promises and initiatives proposed by de Blasio. Having the voters behind him on these matters will help to push his plans forward and give the new mayor the impetus and support he needs to keep them at the top of his wish list.
If he can get the unions to share his plan to improve the contract dilemma, that will be major step and give his tenure in office the kind of gloss that's so desperately needed, even if Albany falls apart and the money has to be raised by other means.
De Blasio has shown that he is resolute and steadfast on several of the key issues on his plate, but he will need more polls and pols if he's to achieve even a portion of his big ideas for change.