Ebony Escapes! to Fredericksburg, Texas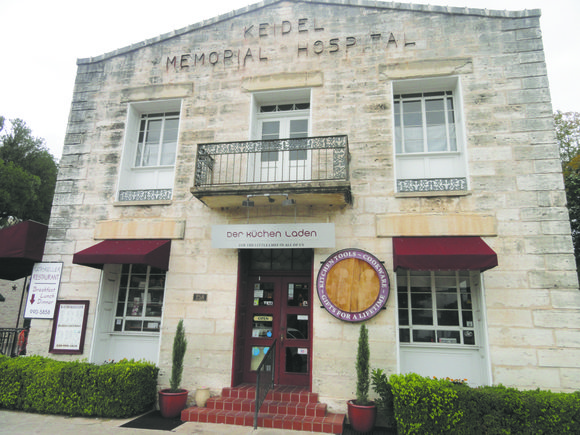 Charming. Historic. Quaint. These were my first impressions of Fredericksburg, Texas.
Located in the Texas Hill Country a little over an hour from San Antonio and one and a half hours from Austin, Fredericksburg has a long and storied history. It was founded in 1846 by a man named John O. Meusebach, born Baron Otfried Hans von Meusebach and one of 120 German immigrants who migrated from 19 different regions in Germany to Texas.
Their establishment in Texas is significant, in that its founder is credited with originating a peace treaty with the Native American Comanche Indian tribe here in 1847, a treaty that, even today, is considered to be the only one in the U.S. that still stands. As you might expect, the Germans brought a great deal of their own traditions, skills, cooking styles, clothing, textiles and the like with them, which they infused into every aspect of the emerging cultural landscape here. Much of it remains through a collection of authentic preserved structures, the culinary scene and other entities, which lends a great deal to the town's present-day historic charm.
Because it is so close to San Antonio and Austin, Fredericksburg is very popular with residents of those cities for day and weekend trips. In fact, an estimated 60 percent of their visitors are from the state of Texas. Additionally, because the Texas Hill Country—which encompasses 15,000 square miles and 119 counties—is only 22 miles off Interstate 10, which stretches from California to Florida, about 25 percent of their visitors travel here from out of state, primarily from Louisiana, Oklahoma, Colorado, Arkansas, other parts of the Midwest, Florida, New York and California. International visitors are plentiful as well, coming from Germany, Canada and further afield.
A wealth of history and charm
For a little town of only about 24,000 denizens, Fredericksburg has a great deal to offer. I spent four days here, absolutely loved it and feel like I only scratched the surface. One of the most endearing aspects is the over 700 historically significant structures located in the Fredericksburg Historic District. There is even a self-guided tour that takes visitors to approximately 30 of them, each featuring its own architectural style and unique slice of history.
The main drag through the Historic Downtown District is well, Main Street (Main Street/Highway 290), an expansive thoroughfare that was originally designed to accommodate the abundance of oxen cart traffic and commercial activity back in the day, with an abundance of secondary streets jutting off of it, forming a parallel and perpendicular grid on either side.
I didn't know this until I came home, but there was a great deal of thought put into the original naming of the streets, with those leading west and east along Main Street spelling out "ALL WELCOME"—Adams, Llano, Lincoln, Washington, Elk, Lee, Columbus, Olive, Mesquite and Eagle—and "COME BACK"—Crockett, Orange, Milam, Edison, Bowie, Acorn, Cherry and Kay. According to the Convention and Visitor's Bureau, the Germans were very warm and welcoming people, so much so that the founding fathers were really forward thinking about sharing their hospitality.