Ebony Escapes! to Fredericksburg, Texas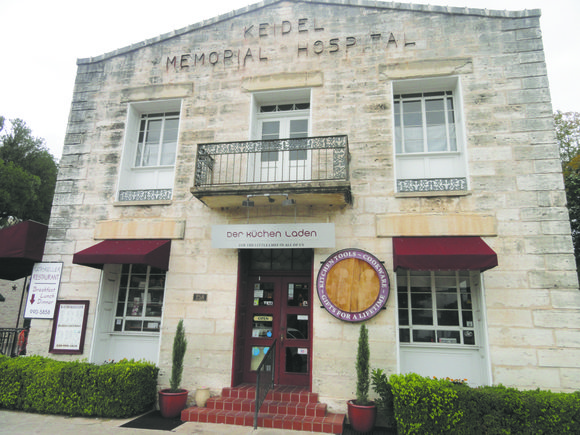 Yet despite Main Street being wide enough to handle two lanes of traffic in both directions like most big city streets, the architecture and entities themselves—over 150 specialty shops ranging from clothing, upscale home accessories and furnishings to unique collectibles, antiques, etc., oodles of cafés, restaurants, wine bars, and the like (and no chains!)—lend a small town flavor and flair that draws you into the intimate ambiance.
A big part of this is that the town is very pedestrian-friendly. My fellow travel writers and I walked almost everywhere when we visited the town, and there are no open container laws, so residents and visitors alike are free to leisurely meander and enjoy amazing wines and beer as they shop.
The clientele is a nice mix of primarily early to more mature baby boomers, and during spring break and in the summer, it is more of a family atmosphere with people who visit with small children.
Why Fredericksburg?
Speaking of wine and beer, the Texas Hill Country is one of the fastest-growing wine destinations in the country, and the craft beer scene here is big as well, with Fredericksburg as the home of the oldest and most acclaimed brewpub in Texas (we're going to delve more into this later—you know how I roll). Because of this, the region is becoming more popular with thirty- and forty-somethings, yet it still maintains a mature "grown folks" vibe.
If you appreciate art and creativity, then Fredericksburg is your kind of place. The art and home furnishings scenes here are fantastic, and I was really surprised at not only the number, but also the scope—both in artistic style and price—of the offerings.
As far as the art, I read somewhere that Fine Art Connoisseur magazine called Fredericksburg "The Little Jewel of Art in Central Texas." And the town's creativity is aptly displayed in the large number of home décor and furnishing, antique, German import, kitchen and bath, lawn and garden, and other boutique stores. Moreover, there are many people who come to Fredericksburg just to purchase items with which to furnish their homes and businesses located across the country.
Another surprising aspect for a town this size is that it offers an astounding number of guesthouses, inns, and bed and breakfast accommodations—350 of them—plus a range of hotels, motels, RV parks and campgrounds.
One of the most popular accommodations are what are called "Sunday Houses," small, in-town houses built by the early settlers who lived and worked on their farms outside of Fredericksburg during the week. On the weekends, they used these homes so they could stay and relax for Sunday church services, community fellowship and to shop for supplies to take back to their farms. Among the distinctive characteristics of these homes are the lean-to kitchens at the rear, outside staircases and second-story sleeping quarters.
More to come!
Fredericksburg is awesome, and I can't wait to go back! But you can go with me when next time we delve into the life and legacy of its hometown hero, President Lyndon Johnson, one of the most significant museums in the country and a great deal more.
Lysa Allman-Baldwin writes for numerous online and print publications, including as the cultural travel writer for www.Examiner.com and as a senior travel writer for SoulOfAmerica.com, an Afrocentric travel website. Lysa can be reached at lallmanbaldwin@kc.rr.com.
Resource List
Fredericksburg Convention & Visitor Bureau : 888-997-3600, 830-997-6523, www.VisitFredericksburgTX.com
Texas Hill Country: www.hill-country-visitor.com, www.texashillcountry.com