Jets have enough blame to go around for everyone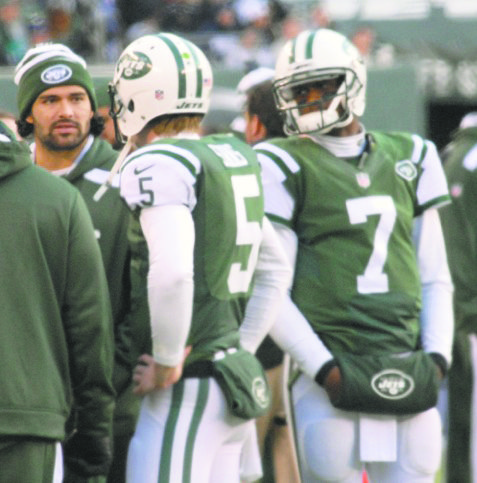 Geno Smith's benching seemed to be a forgone conclusion after a late second-quarter interception during the Jet's 23-3 loss to the Dolphins on Sunday
With only one touchdown and 12 interceptions in his last seven games, Smith's play can't be defended. Rex Ryan made the right decision to go with Matt Simms in the second half. Simms didn't fare much better, throwing for 79 yards and one interception. He also fumbled a handoff to Bilal Powell.
Despite a downward spiral reaching near epic proportions, Smith will start on Sunday against the Raiders at MetLife Stadium, he confirmed with reporters on Monday.
Smith isn't the only problem though. Sunday was a prime example of why the entire Jets organization, from management to the 53rd player, needs to be reevaluated. The Jets have used their last five first-round picks on defense, so it's not difficult to figure why the team can't move the ball downfield these days. With no game-breaking talent on the outside and several injuries, Smith has been forced into several bad throws this season.
That doesn't take Smith off the hook, because his play has been brutal. But considering the lack of overall talent on offense, it didn't matter who was under center against the Dolphins. Jets general manager John Idzik shouldn't be criticized. It's his first year on the job, and he's being forced to clean up a mess he didn't make. But Ryan can take some of the heat.
"I feel bad for our fans, especially the ones that were here at the stadium," said Ryan. "It was an awful performance by us. We got outplayed in all three phases of the game."
The Jets were indeed outplayed everywhere on the field, which means there is a problem in the talent acquisition department. Just take a look at the Jets' wide receivers and tight ends from Sunday. Receivers Josh Cribbs, David Nelson and Greg Salas and tight end Zach Sudfeld weren't on the Jets' training camp roster. All four have played a significant amount of snaps the last six weeks or so, and what does that tell you?