Talking SCHOP! Battle: Gumbo for the Hollidays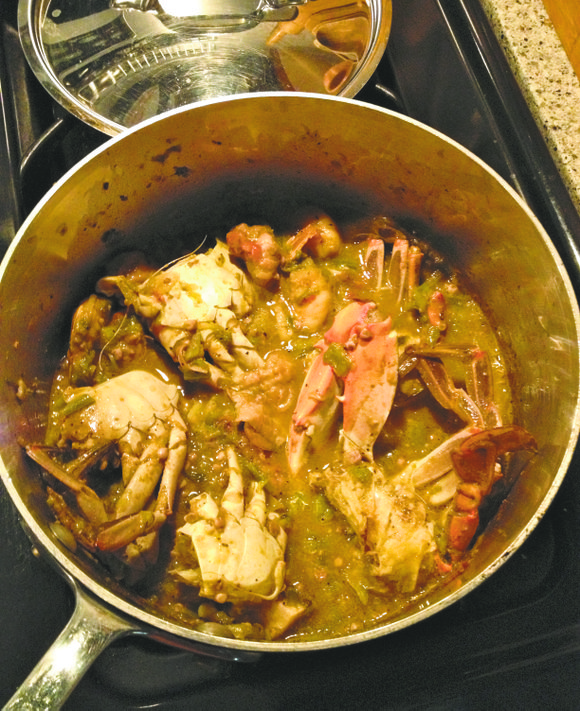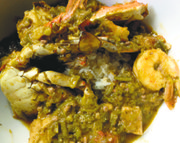 Once the onions are wilted, add the garlic, parsley, celery, green onions and bell pepper. Strain the seafood stock into the large stockpot. Add the browned sausage and bay leaves and bring everything to a boil over medium-high heat, then reduce the heat to medium and continue to cook.
Once the okra is cooked, add it to the gumbo pot. Continue cooking the gumbo for 60 minutes. Add the reserved crabs and shrimp and cook for 15 minutes longer. Remove the gumbo from the heat and stir in the Creole seasoning and filé powder. Let the gumbo rest for 15 to 20 minutes. As it cools, oil should form on the top. Skim the oil with a ladle or large spoon and discard. Stir in the picked crab meat. Taste the gumbo and adjust seasoning with more salt and pepper as needed. Serve the gumbo ladled over steamed rice.
Parsley? Okra? Filé?! Ah ha! It sparked something in you too! I want to hear about it. Email me with your thoughts, and next week I will share the results plus round one of my family's cook-off.
Happy eating and thanks for reading!
Kysha Harris is a food writer, culinary producer, consultant and owner of SCHOP!, a personalized food service offering weekly and in-home entertaining packages. Questions? Comments? Requests? Feedback? Invitations? Email her at kysha@iSCHOP.com, follow her on Twitter and Instagram, on Facebook or chat with her on Instant Messenger at AskSCHOP, Monday-Friday, 6-8 p.m. For even more recipes, tips and food musings subscribe to her blog at www.talkingSCHOP.wordpress.com.