Augusta Savage, a renowned sculptor and civil rights activist
Herb Boyd | 12/12/2013, 4:41 p.m.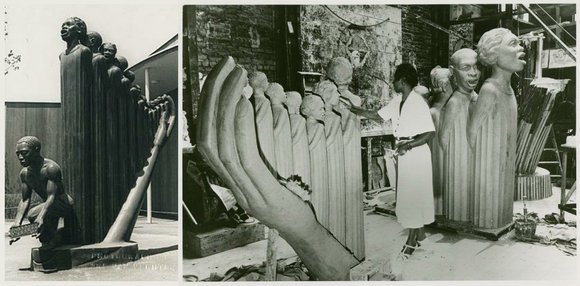 Of the artists in America, sculptors are among the least recognized and celebrated, and that anonymity increases when the artist is a Black woman such as Augusta Savage. Savage, born Feb. 29, 1892, in Green Cove Springs, Fla., gained perhaps her greatest fame during the Harlem Renaissance, though even then, she had to take a backseat to the writers, musicians, actors, dancers and a few painters.
Like so many illustrious New Yorkers, Savage migrated to the city in the 1920s from the South, and that she was able to pursue her passion as a sculptor is rather miraculous, given her Methodist minister father's determination to stifle this early obsession. Savage grew up in a community with an abundance of clay, and her busy, gifted hands quickly took full advantage of it, shaping a virtual menagerie of animals and other tiny figurines. Each time she created one of the pieces, she was met with the full wrath of her father's protestations. He "almost whipped all the art out of me," Savage told a reporter.
But her father would have had to do a lot of whipping to stop Savage from her natural proclivity—an activity that was to some degree minimized when her family moved to West Palm Beach, where the clay was not as plentiful.
Eventually, her determination to find some clay paid off after she encountered a local potter. From this fortunate encounter, she had the clay she needed and quickly resumed making the figures that occupied so much of her time in Green Cove Springs. When told of a competition at a nearby county fair, she entered it and walked away with a prize. It also provided her an opportunity to meet the fair's organizer, George Graham Currie, who took her under his arm and supported her desire to become an artist.
With his encouragement and a renewed confidence, she set out to showcase her work in a larger artistic environment in Jacksonville, but the community there was either not sympathetic to her work or not large enough to satisfy her needs. New York City was her next stop.
She arrived in the city just as the Harlem Renaissance was gathering steam. Even so, it wasn't an easy scene to conquer unless you had the proper introductions or connections. To refine her untutored talent, she enrolled at Cooper Union, which, with its free tuition, was perfect for someone without much money or employment. Her talent won out, and soon she was awarded a scholarship to help pay the rent and buy the supplies she needed.
In 1923, while still a student at Cooper Union, she applied for a summer program to study in France, according to her official website, but was turned down. She believed this happened because she was Black. Undaunted, Savage unleashed a tidal wave of letters charging the program selection committee with racism and discrimination. Suddenly, her name was all over the place, but it did little to change the minds of the committee.
The rejection only fueled her artistic output and at the same time sent it off in a related direction as a portrait sculptor. With the growing popularity of the Harlem Renaissance and the arrival of countless notables, she had a number of luminaries to choose from if they had the time and interest to pose for her. A few of them did, and even when they didn't, there were enough pictures of Marcus Garvey, W.E.B. Du Bois and others that would serve just as well.