Augusta Savage, a renowned sculptor and civil rights activist
Herb Boyd | 12/12/2013, 4:41 p.m.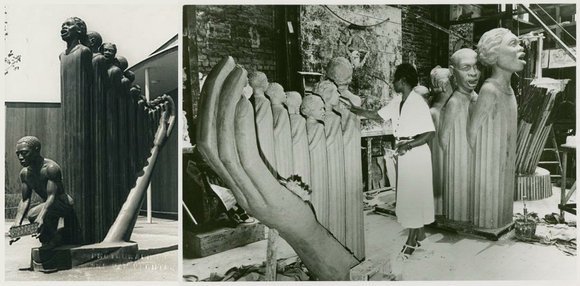 When at first she didn't succeed in her quest to study abroad, Savage was by no means dismayed and, finally, in 1929, she received a prestigious Julius Rosenwald Fellowship, and she was off to Paris. The fellowship was mainly the result of her sculpture "The Gamin," which depicted a street urchin, which her nephew posed for.
Paris, as it was for many other African-American artists, including Josephine Baker and the jazz musician Sidney Bechet, was open and welcoming to Savage, and she prospered through her exhibits. A second fellowship and a grant empowered her even more, allowing her to stay a little longer and travel widely in Europe.
In 1932, she returned to the states, and it wasn't the most propitious time, with the country stuck in the middle of the Great Depression. To survive, she had few alternatives but to teach, which she did after establishing her own studio and seeking her own students, including Jacob Lawrence and Norman Lewis, both of whom would acquire great followings and honors.
A windfall for many artists of the day, particularly writers and people in the theater, was the WPA (Works Program Administration). It was euphemistically known as the "Working People of America," and was set up to assist the nation's struggling artists. Savage was among the first to join and was soon among the founding members of the Harlem Artists' Guild.
Having earned wide respect for her work, Savage was commissioned to create a sculpture for the highly publicized 1939 New York World's Fair. Drawing on the inspiration of fellow Floridians J. Rosamond and James Weldon Johnson's "Lift Every Voice and Sing," she created "The Harp," which was one of her most impressive works. It depicted African-American faces in a row atop the harp strings as though they are singing; the instrument's sounding board is shaped to resemble a hand and arm. At the front of the piece, a young man is seen kneeling, with a piece of sheet music in his hand.
Sadly, this magnificent, 16-foot-tall work of art, made of plaster, was destroyed at the end of the fair. Fortunately, there were smaller steel versions and postcards capturing its beauty available for purchase. Savage, as with many of her expressive, realistic pieces, never had the money to cast them in stone or bronze.
With the Harlem Renaissance and the Great Depression sealed in the history books, Savage vacated the city and took up residence in the Catskill Mountains. She resumed teaching with only a modest amount of time set aside for her art. The teaching didn't interfere too much with her penchant to sculpt, however, and "The Pugilist" is among several pieces that indicated she still possessed the vision and energy to create valuable art.
Savage was never as successful in her love life as she was with her art. Soon after marrying John T. Moore in 1907, he died. A few years later, she married James Savage, whose name she took and kept, and after they divorced, he died. Her third and final marriage was to a notable Garveyite, Robert Poston, but he too died not long after their wedding in 1923. She had one daughter, Irene, with whom she lived with in New York after she became ill.