Augusta Savage, a renowned sculptor and civil rights activist
Herb Boyd | 12/12/2013, 4:41 p.m.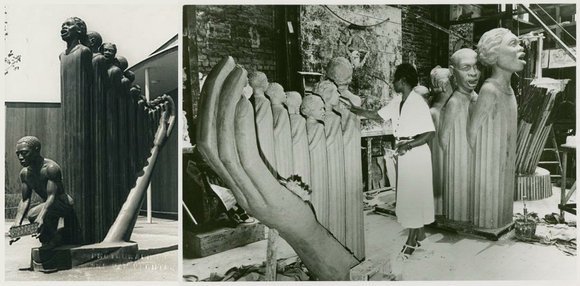 On March 26, 1962, the great artist died of cancer in New York City.
Many of her works were made of perishable materials and there are a few available, none more fascinating than "The Gamin," the bust of which is on display at the Smithsonian Art Museum, with a larger version at the Cleveland Art Museum.
Her legacy also can be found in Baltimore, where a public school is named in her honor. In 2008, she was inducted into the Florida Artist Hall of Fame. At the place of her birth in Green Cove Springs, her name festoons the front of a community center.
Activities:
Find out more: There is a splendid biography of Savage for young readers by Alan Schroeder. Fittingly, it's titled "In Her Hands: The Story of Sculptor Augusta Savage" (Lee and Low, 2009). Of course, there is also a lot of information about her online.
Discussion: What other African-American sculptors do you know, and why are they so often neglected by the media? It might be useful to talk about the financial and physical challenges all sculptors face. Why did Savage decide to return to the states after such a seemingly fruitful stay in France?
Place in context: It was during the Harlem Renaissance that Savage achieved her greatest acclaim. Consider to what extent she found comfort among the other artists of the day.
This Week in Black History
Dec. 9, 1971: Dr. Ralph J. Bunche, the first African-American to be awarded a Nobel Peace Prize, died. He was 67. Bunche was also the undersecretary at the United Nations from 1955 to 1971.
Dec. 10, 1964: Dr. Martin Luther King Jr. received the Nobel Peace Prize. He was the youngest recipient of the prestigious award.
Dec. 11, 1989: The State Appeals Court of New York reversed the verdicts on the three white youth convicted in the murder of Michael Griffith, 23, whom they chased onto the Belt Freeway near Howard Beach. The ruling was reversed, the court said, because the freeway was just improperly instructed.