Black community responds to Bill Bratton appointment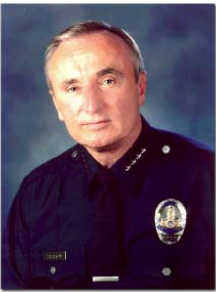 Did Mayor-elect Bill de Blasio make worse an already fragile relationship between the NYPD and the Black community in his selection of Bill Bratton as police commissioner? "Yes, he did," snapped New York City Councilman Charles Barron, who held a press conference shortly after the announcement last Thursday morning.
Even as de Blasio proclaimed that there would be a concentrated effort to improve crime fighting along with greater police-community relations, he admitted that the two sides were "sorely divided" and had a lack of "mutual respect."
"Asking Bill Bratton to come back and stop racial profiling ... is like asking an arsonist to help you put out fires," said an irate Barron.
Barron bashed de Blasio's appointment of Bratton as hypocritical and unacceptable.
"Bratton is the architect of racial profiling, stop-and-frisk," charged Barron. "I'm sure Bill de Blasio will say to give Bratton a chance. However, we did already, and he failed us. This appointment is unconscionable." Barron, Councilwoman-elect Inez Barron and others held press conferences on the steps of City Hall and in Barron's East New York office to denounce the appointment. "You don't ask the person who's the architect of racial profiling, stop-and-frisk, to come back and now put a stop to it."
Walking down 125th Street, 19-year-old fast-food worker Jason W. told the AmNews, "Wouldn't Bratton's first arrest be someone like de Blasio's son, since he would 'fit the description,' as the cops always say?"
De Blasio, however, delighted in his choice. "Bill Bratton is a proven crime-fighter," he said. "He knows what it takes to keep a city safe and make communities full partners in the mission. Together, we are going to preserve and deepen the historic gains we've made in public safety—gains Bill Bratton helped make possible. And we will do it by rejecting the false choice between keeping New Yorkers safe and protecting their civil rights. This is an administration that will do both."
"Mayor-elect de Blasio's priorities are my priorities," said Bratton regarding his appointment. "This is the best police force in the nation, and we are going to ensure our men and women have the best technology, the most innovative tactics and the strong support of the communities they protect. This department will not rest on its laurels. We are going to continue making history as the safest big city in America."
Bratton was police commissioner under the controversial Mayor Rudolph Giuliani, of the raucous "Giuliani Time." He served as police commissioner in a time of tense community-police relations with his "broken windows" theory of cracking down on the smallest of crimes, which he said would lead to an environment where bigger crimes would cease to thrive. In the same vein, de Blasio also lauded Bratton's tenure as L.A. police commissioner.
A parade of politicos also praised the selection of Bratton. Gov. Andrew Cuomo declared, "Mayor-elect de Blasio has made a smart choice for New York in picking Bill Bratton, a law enforcement veteran with a proven record, to lead the city's police force. As the former police commissioner of Boston, Los Angeles and New York, Bill Bratton took on and successfully reined in historically high crime in some of the nation's largest cities. I commend Mayor-elect de Blasio on his pick and congratulate Bill Bratton on his appointment."