Black community responds to Bill Bratton appointment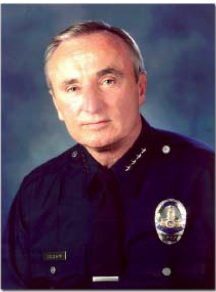 "My evaluation, and I speak the sentiments of the majority of Black leaders who I know, is that Mr. Bratton is an old-school, rough, law-and-order cop's cop with little appreciation, understanding, sensitivity and even knowledge of the poor, disadvantaged and excluded Black communities.
"It is difficult to comprehend how a police commissioner appointed by former Mayor Rudolph Giuliani, a staunch, controversial conservative, could be acceptable to a compassionate, sensitive, unifying and progressive mayor. In addition, how can a mayor appoint a police commissioner who supports stop-and-frisk, to which Mr. de Blasio campaigned against? It has been reported that stop-and-frisk surged 49 percent during Mr. Bratton's time in Los Angeles.
"However, people do change. Perhaps Mr. de Blasio saw or feels that Mr. Bratton has changed. I hope so. I hate to think that Mr. de Blasio's progressive rhetoric was just that—rhetoric and nothing more—and we shall witness more Bratton-type appointments."
On Thursday, the day of the announcement, the Sharpton stated, "When Bill Bratton served in New York City under Rudy Giuliani, we had a very distant and adversarial relationship, but when he served in Los Angeles, he and I and the Los Angeles chapter of National Action Network worked closely on gang violence and police misconduct matters. Mr. Bratton knows of my concerns and the concerns of others about racial profiling in stop-and-frisk policing but, at the same time, is aware of our desire to continue the decrease of violence and crime in our community.
"I told Mayor-elect Bill de Blasio and Commissioner Bill Bratton that I hope they will work with a broad cross-sector of New Yorkers to continue the pursuit of both, and we discussed meeting over the next few days to discuss these matters with him and with other civil rights and community leaders."
Anti-stop-and-frisk activist Jose LaSalle warned, "It is important for the people to rise up when there is an injustice. People [have suffered] enough, and for de Blasio to appoint Bill Bratton as police commissioner tells us that we need to prepare ourselves, our families and our friends for another four years of unconstitutional abuse, criminalization of innocent people, assaults and murders by the militarized Police Department. Why?
"'I am choosing the best police leader in the United States of America … Plus, [he's] someone I trust on the philosophical level. We are kindred. We share the same beliefs,' said de Blasio."
LaSalle charged, "Bill de Blasio's true intentions are manifesting themselves now that he no longer needs the people's vote. He deceived the people by using his Black family to give the false impression that he was concerned for the issues of people of color. He even said that he shares the same beliefs as Bill Bratton."
LaSalle concluded, "Now it is up to ... the real freedom fighters to step up and make Bill de Blasio's transition to mayor not a smooth one. Join the Stop Stop and Frisk Freedom Fighters and other non-sellout grassroots movements to send a message to de Blasio: 'We the people will not go quietly into the lies and deceptions of the de Blasio administration."