FDNY graduates record number of diverse firefighters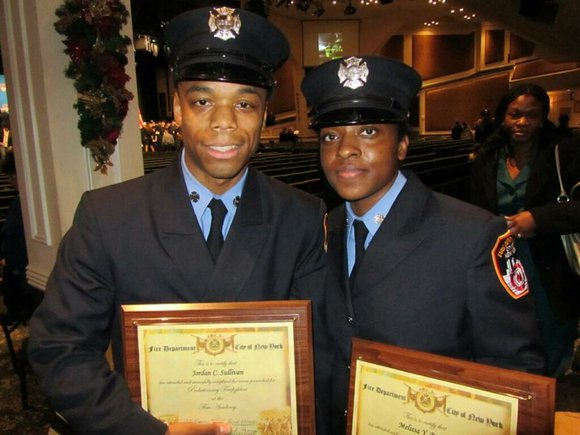 It was a great day for the FDNY as they welcomed their most diverse class in department history last week.
It was an even better day for the fraternal order of Black firefighters, known as the Vulcan Society. After years of court battles with the city, which ended with federal Judge Nicholas Garaufis ruling that the FDNY discriminated in their hiring practices, they finally saw the fruits of their labor. For the firefighters of color, the ceremony marked a milestone, a passage into one of the city's most admired institutions that, in the past, had been reserved mostly for white males.
The class of 242 probationary firefighters joined friends and family at their graduation ceremony at the Christian Cultural Center in Brooklyn. Sixty-two percent of the graduates were firefighters of color, 24 percent Black and 36 percent Hispanic. Four were women.
"I have been waiting for this day for a long time. To see all of these Black and Brown faces in the FDNY is really overwhelming," Capt. Paul Washington, former president of the Vulcan Society, told the Amsterdam News. "I was especially happy for the family members. They will now have a brother, husband, a mother or father who has a great job."
Washington was the FDNY employee who raised the original Equal Employment Opportunity Commission (EEOC) complaint about the department's racial discrimination.
He said the lawsuit could have been avoided if Mayor Michael Bloomberg would have worked with the Vulcan Society in 2002. The mayor was shown a report from the EEOC that indicated that the exam pass rates for whites was 91 percent and 61 percent for African-Americans. He was asked if he ever talked to anyone about that "very large discrepancy."
"We understand that the mayor inherited this problem, but he had the opportunity to fix it if he would have approached the problem with an open mind," Washington noted.
The Vulcan Society sued the city. Garaufis, who also oversaw a case in 2010 against the FDNY, deemed the entrance exam as favorable to whites over Blacks and Hispanics.
The Vulcans won the lawsuit. The judge called on the city to reassess how it recruited, hired and employed Black and Hispanic firefighters. He said that the only reason the court made a decision to end the city's discriminatory practice was because "a coalition of Black New York City firefighters [Vulcan Society] and President George W. Bush's attorney general, Alberto Gonzales, decided the only recourse was to sue the city of New York to make it stop," Garaufis wrote.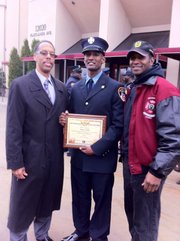 He also found that 186 Blacks and 107 Latinos who took the '99 and '02 tests might have made the grade had the process been different. He required that the city contact those applicants and give them the opportunity to retake the exam, regardless of age.
After the ruling, Fire Commissioner Salvatore Cassano said he was not happy. Bloomberg disputed the judge's ruling. The city appealed. City attorneys filed a 139-page legal brief, alleging that the judge "injected" personal and "extrajudicial" beliefs into the bitterly fought court battle. They asked the U.S. Court of Appeals to reverse Garaufis' decision and reassign the case to a "neutral arbiter."