Imhotep's Guide to Black entertainment Dec. 12-18, 2013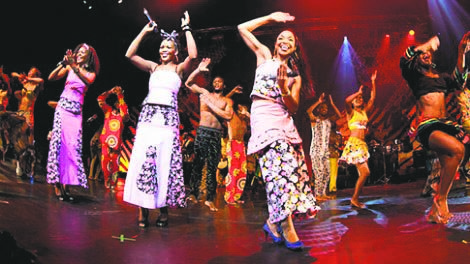 Three-time Grammy Award-winning singer-songwriter Jill Scott will take the stage at Radio City Music Hall on New Year's Eve at 9 p.m. with special guests Luke James and DJ Premier. Visit radiocity.musichall-ny.com for more information.
Family
The Apollo's holiday season includes "Ellington at Christmas," celebrating the legacy of Apollo legend Duke Ellington and featuring Savion Glover, actor Keith David as the narrator and jazz vocalist Lizz Wright. There will also be "Amateur Night" finals, with $10,000 winners. Join the theater for its seventh annual Kwanzaa celebration, "Regeneration Night," hosted by yours truly on Dec. 27 at 7:30 p.m. Visit apollotheater.org.
"Mother Africa" (featuring Circus Der Sinne from Dar es Salaam, Tanzania) is playing now through Jan. 5, 2014, at the New Victory Theater, 209 W. 42nd St. Visit newvictory.org for more information.
The Big Apple Circus welcomes you to its all-new show, "Luminosity!" now through Jan. 12 at Lincoln Center! Visit bigapplecircus.org for more information.
Film
"Long Walk to Freedom" features Idris Elba in the new Nelson Mandela biopic. The film opens Christmas Day but is now appearing at select theaters in New York City.
The New York African Diaspora International Film Festival (ADIFF) is now running through Sunday, Dec. 15. For more information, contact Diarah N'Daw-Spech at 212-864-6020 or email pr@nyadiff.org. Visit www.nyadiff.org for more information.
Community
Dr. Joy Degruy, author of "Post Traumatic Slave Syndrome," is in New York City on tour. On Thursday, Dec.12, Degruy will speak at the African Burial Ground, 290 Broadway, first floor, in Lower Manhattan at 11 a.m. This event is free. On Saturday, Dec. 14, Degruy presents a full, dynamic lecture on "Post Traumatic Slave Syndrome," as well as solutions as listed in her forthcoming book, at House of the Lord Pentecostal Church, 415 Atlantic Ave., Brooklyn, from 2-5 p.m. Cost of admission information and tickets are available at www.squareup.com. Also on Saturday, Dec. 14, there will be a reading and book signing with Degruy at Sister's Uptown Bookstore and Cultural Center, 1942 Amsterdam Ave., from 6-8 p.m. This event is free. For more information, contact Rockia via email at AGardenInfo@gmail.com or call 347-940-2951. Follow on Twitter @AyasGarden for event updates.
The National Association of Kawaida Organizations and the International African Arts Festival present the 47th anniversary celebration of Kwanzaa. Dr. Maulana Karenga, the creator of Kwanzaa, will deliver his yearly founder's statement, titled "Celebrating and Living Kwanzaa: Sowing and Harvesting Seeds of Good." There will be artistic performances by KowTeff African Dance and Drum Troupe and the Donald Smith Trio. On Friday, Dec. 27, the celebration of the second principle of the Nguzo Saba, Kujichagulia (self-determination), takes place from 6 p.m. to 9:30 p.m. at Stephen Decatur Middle School, 272 Macdonough St., between Lewis Street and Marcus Garvey Boulevard. For pre-registration and information about admission, call 718-789-3264. For vending registration and information, call 718-479-4186.
Hear Imhotep Gary Byrd on 107.5 WBLS-FM daily with "Imhotep's On-Air Guide to Black Events" and "Express Yourself," Sunday evenings from 7 to 9 p.m., and on WLIB-AM with "The GBE Mind Flight," Sunday evenings from 9 p.m. to midnight. The full show can be heard on HD radio at WBLS-HD2. IGB is also heard on WBAI-FM 99.5 with Radio GBE: The "Global Black Experience" and "Global Beat Experience," Saturdays from 5 to 7 p.m. We are archived online with both shows at www.wbai.org. To contact us for bookings or to reach us about your event, email igbexp@gmail.com, find Imhotep Gary Byrd on Facebook, or follow us on Twitter @GBELIFE or call 212-592-3279.